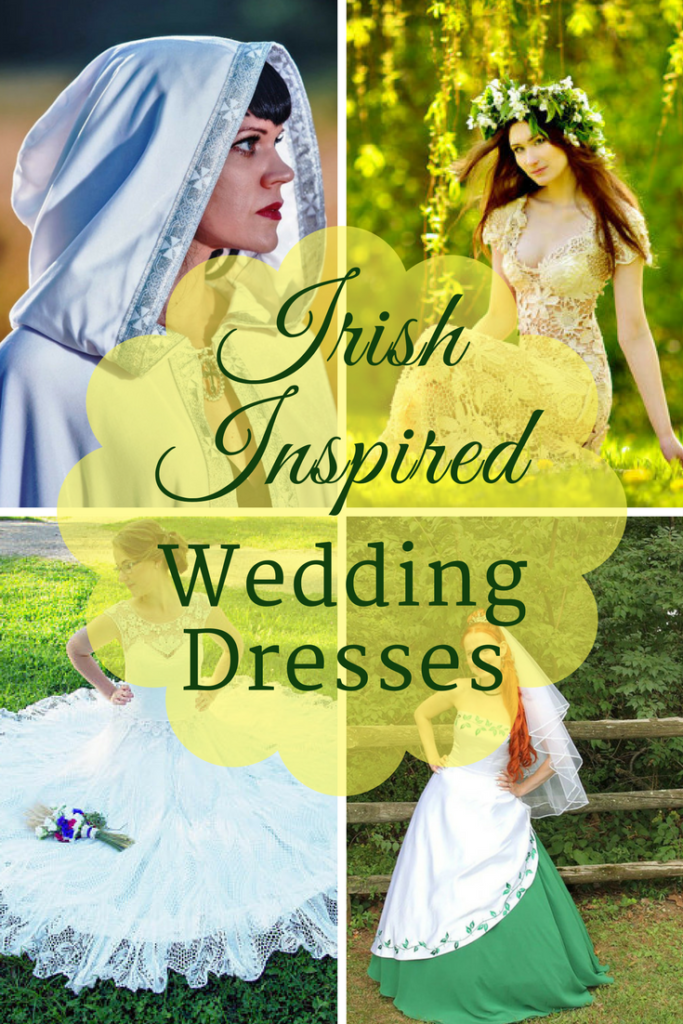 For those lucky brides planning an Irish themed wedding, I've put together a beautiful collection of stunning Irish inspired wedding dresses. Including Irish lace to Celtic embroidery, and a range of styles from bohemian to vintage, and even medieval. Many of these dresses can be custom made to order. Traditional Irish wedding dresses were actually blue, as this colour was a symbol of purity in ancient times before white became the universal symbol for virginity. So for a traditional look, why not get your dress made in blue?  
Irish Lace Wedding Dresses
Elegant laces were made in Ireland before the middle of the eighteenth century, and were used to decorate ceremonial outfits such as wedding dresses. Thought of as an early form of crochet, different parts of the Ireland produced distinctive types of lace:
Carrickmacross lace from County Monaghan
Kenmare lace from County Kerry
Youghal lace from County Cork
Tambour lace from Limerick
To this day, Irish lace is still a popular choice in modern wedding dresses.
This gorgeous 100% cotton Irish Crochet Lace wedding dress is handmade using traditional and modern crochet techniques. Its sheath, ¾ length style gives it an elegant vintage feel.

This gorgeous 100% cotton Irish Crochet Lace wedding dress is handmade using traditional and modern crochet techniques. The boho style gives it a modern look.

This form fitting handmade dress features a stunning Irish lace bodice with a tulle bottom to create the mermaid flair, giving this dress a gorgeous, sexy, modern silhouette.
This elegant, vintage style hand knitted dress features Lily of the Valley motifs. As it is made to order, it can be made in your choice of linen, merino wool or mohair and is also fully customizable.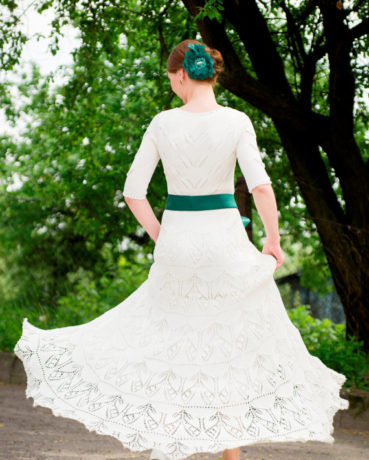 This fit and flare wedding dress has been created with handmade Irish lace. With deep neckline and pretty cap sleeves, this vintage style wedding dress is absolutely stunning.
This white cotton maxi dress is made using an Irish lace technique. Its bohemian style makes it a perfect match for the free-spirited bride. The dress features a small train and flared sleeves which you can get with or without fringed tassels.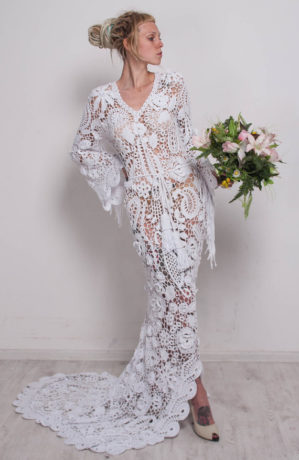 This gorgeous handmade Irish crochet lace dress features exquisite detailing. Its high neck and cap sleeves gives this stunning dress a modest yet elegant look. 
This elegant, hand-knitted Irish lace wedding dress can be made in your choice of materials. Cotton, linen or viscose are perfect for spring and summer weddings, and for winter weddings it can be made with merino wool or mohair. This dress features an A-line skirt with fitted top and floral motifs. However, it can also be made with to your preference with a shorter skirt, custom sleeves and neckline.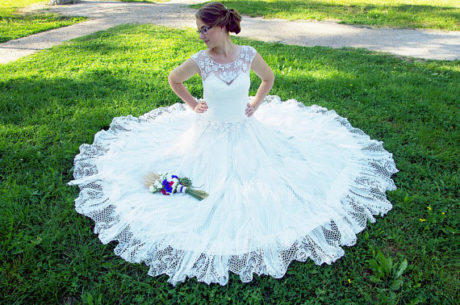 This dress is perfect for a winter wedding. This beautiful Irish lace crochet dress is hand knitted using a fine silk mohair blend which gives it a wonderfully soft, yet elegant style.

Brides looking for a short style will love this gorgeous Irish crochet cotton dress. The dress features trumpet sleeves and can be worn either cinched at the waist or left to flow around the body. It also comes in other colours for those brides looking for a non-traditional look.
Many of the gorgeous lace crochet wedding dress featured in this article require a lining or slip for modesty. These silky stretch satin slips with deep plunge neckline are soft and slinky, with a beautiful drape making it perfect for wearing under your crochet lace dress. The slips are available in a range of colours and are custom made to order based on length and bust size. They also come in two shoulder strap styles, either regular straps (pictured) or thin ribbon adjustable straps. These slips are so glamorous that they can also be worn alone.
Irish Inspired Wedding Dresses
This stunning Celtic wedding dress is made with ivory satin and features Celtic style green traced embroidery. The sweetheart neckline and A-line shape flatters the figure. This dress is fully customizable and can be made to suit you, i.e. with either a corset or zipper back, train, and different skirt lengths and colours.
This beautiful white and green wedding dress is created with a Couture construction. The gown is made with white satin and features custom embroidered green ivy leaves. The skirt features Chiffon layers peeking out.
This gown is made from your choice of coloured or plaid fabric. The bodice is fully lined, interlined, and steel-boned. The front features a corseted closure of 14 brass grommets and the gathered overskirt is split down the centre.
This magical handmade dress is created using satin and gauze chiffon. It's perfect for a medieval wedding and features dramatic, flowing, hanging sleeves.
This stunning enchanted original hand crafted dress has been fashioned in the princess line style, and is made from truly gorgeous ivory crushed velvet. The front and back panels have been made from a unique jacquard adorned with a stunning woven medieval flower design with metallic coppery gold undertones. The medieval style sleeves feature a wide embroidered ivory and gold Celtic knot work brocade. The front and the back are laced in a corset style with fine ivory ribbon, giving it the ability to be fitted to your figure.
Irish Inspired Accessories
These stunning emerald green satin shoes add a 'pop' of Irish colour to your wedding attire. You can choose your preferred heel height and to add an adornment like this gorgeous Swarovski crystal embellishment shown.
If you are looking for a more subtle look these elegant emerald green satin bow shoe clips are a great accessory to add a touch of Irish to your wedding outfit. The centre can be rhinestone or pearls and they can be worn clipped to the front, side, back, or shoe-strap.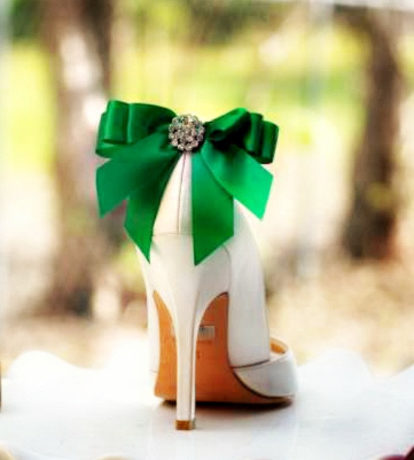 This beautiful Celtic Cape is created with a soft, white, non-crushable velvet exterior. The inside lining is white satin with small pin point size flecks of silver. The trim features a Maltese cross Celtic knot with small pearls which will look stunning when worn over your wedding dress.

For the bride looking to add a touch of Irish crochet lace to their wedding outfit, this beautiful handmade vintage looking collar and sleeves is the perfect accessory.
This Celtic inspired diamante beaded belt is the perfect touch of bling for your Irish inspired wedding dress. These quality belts are stitched onto ribbon and close with metallic hooks.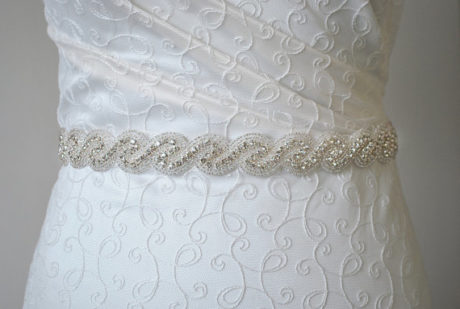 *Please note that prices are subject to change in accordance with exchange rates or at the Sellers discretion.
RelocatingtoIreland.com is a participant in the Etsy, Amazon EU and Amazon Services LLC Associates and Program, an affiliate advertising program designed to provide a means for sites to earn advertising fees by advertising and linking to etsy.com, Amazon.co.uk and amazon.com. Regardless, I only recommend products or services that I personally believe will add value to my readers.