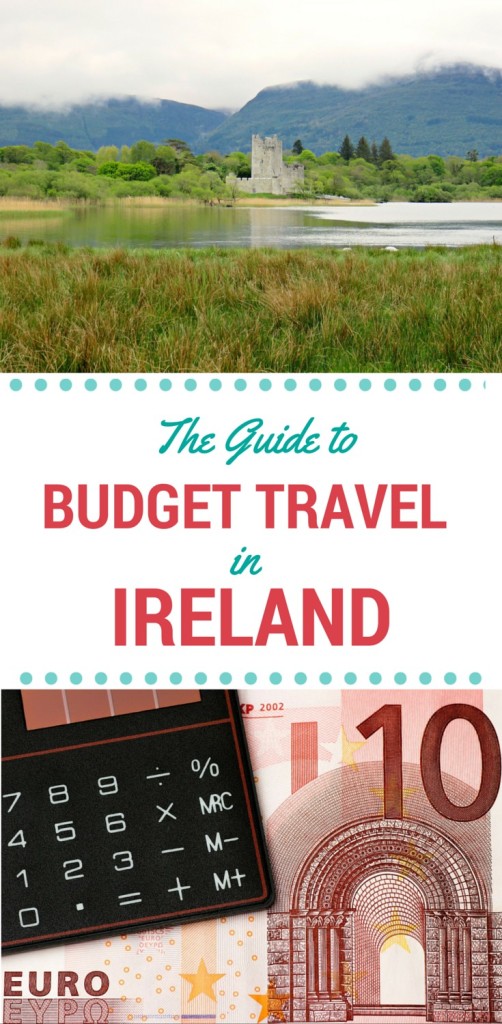 Being on a budget doesn't mean that you have to miss out on the joys of travelling. It just means that you need to take a little bit more time when it comes to planning your holiday.
Ireland is not the most expensive destination in Europe, but it's definitely not the cheapest. But don't give up hope of visiting Ireland just yet. There is a surprising amount of things that you can do to reduce the cost of your visit and make your dream of visiting Ireland a reality. Follow these top tips for travelling around Ireland on a budget.
Getting to Ireland
1. Travel off Season
It's much cheaper to travel in spring, autumn or winter. Try and avoid the Irish school holiday periods and the summer peak season (June to August), as it is so much more expensive. Don't feel disappointed about having to travel outside of summer as you will enjoy fewer crowds and smaller lines the at the popular tourist sites.
Spring is an amazing time to visit Ireland. Everywhere you look adorable baby animals including foals, calves and lambs frolic about enjoying the warming sun. In spring you will also see an abundance of colourful wildflowers bursting forth from the road sides and rolling hills.
Travelling around Ireland in autumn provides you with a wonderful backdrop of red and yellow as the leaves change colour. On the other hand, travelling in winter can be a bit grim with cold weather and shorter daylight hours. Some sites may even be closed.
2. Book Your Plane Tickets in Advance and Be Flexible
To save the most money, you will need to be flexible and book in advance. Generally flying on a Friday, Saturday and Sunday are the most expensive days. Mid-week is usually cheapest time to fly. Most flight comparison sites also let you set up a price alert to ensure you get the best deal when it becomes available.
3. Reduce Your Luggage
If you are travelling to Ireland on a budget airline that charges for checked in luggage, then consider taking only carry on, or only paying for the cheapest luggage weight possible. To help you to pack light, follow my post on how to pack an extra light toilet bag and also my guide on what to pack for your Irish vacation. 
4. Print Your Own Boarding Pass
These days most budget airlines will also charge you to print your boarding pass. Avoid this fee by checking in online and printing your own boarding pass. Some airlines even let you use your phone to check in.
Accommodation in Ireland
5. Don't Stay in Hotels
Hostels and B&B's are typically cheaper than hotels. Now before you start cringing at the idea of staying in a hostel, think again. Hostels aren't just for younger people, you'll find people of all ages as well as families staying there and it's also a great way to meet your fellow travellers. Many hostels offer private and family rooms with ensuites, making them very similar to a hotel room anyway.
Keep accommodation costs down by following these tips:
Some hostels and B&B's may have the option of a private or shared bathroom. Choosing a shared bathroom will save you money.
Take advantage of free breakfasts offered by your hostel or B&B.
Some B&B's charge extra for breakfast, so consider whether its worth the extra expense or whether you can arrange your own breakfast for cheaper.
If you plan to stay in locations a bit longer than a few nights and there is a group of you, then it may be cheaper to rent an apartment or cottage.
I recommend the website Booking.com because not only does it give you the cheapest price, but also provides a range of accommodation options including B&B's, guest houses, hostels, hotels, apartments, and castles (yes, that's right, Castles!).
6. Consider Renting a Campervan or Camping
Ok, so this option won't suit everyone, but camping or campervanning is a fun and cheap way to travel around Ireland. Best done in the warmer months though!
Getting Around Ireland
7. Use Public Transport
Ireland has a good network of buses and trains making use of them is a great way to save on travel. Find out more about Ireland's public transport options. If you are planning on using public transport in Dublin, Limerick, Galway and/or Cork, then get a Leap Card, it's a pay as you go smart card. The fares charged when using the Leap Card are much cheaper than purchasing paper tickets for each trip, and it means that you don't have to worry about having small change on you. Although the Leap Card costs €5, this money is credited to your card – so this €5 can be used for travel (so basically the Leap Card costs you nothing).
However, if you plan to use a lot of public transport in Dublin, then it may be cheaper for you to purchase and use the Leap Visitor Card. This Leap Visitor Card can be used on Dublin bus, train and tram services and can also be used on the Dublin city to airport 747 Airlink bus.
If you're flying in and out of Dublin airport and plan to use the 747 Airlink airport bus, it's cheaper to get a return ticket than purchasing a separate ticket for each way (if you don't have the Leap Visitor Card). However, if there is a group of you, it may be cheaper for you to take a taxi. Use the taxi fare estimator tool to estimate your fare before deciding on which transport option is the cheapest for your circumstances. Many taxi companies will also agree on a fixed rate airport transfer.
8. Book Your Bus and Train Tickets in Advance and Online
Be aware that travelling around Ireland by rail is generally more expensive than using the bus services. Also, many of the Irish rural areas can only be accessed by bus.
If you are planning to use buses and trains to get around Ireland, then save money by:
Purchasing your tickets in advance
Purchasing your tickets online.
Purchasing return tickets (as opposed to purchasing two one-way tickets).
Being flexible with the time of day that you travel. For some trips the time of day that you travel can affect the price. Usually travelling midday is cheaper, but check this out as you book online.
9. Purchase Discount Rail and Bus Passes
If you plan to travel around Ireland using public transport, then consider these two options which may save you money:
The Eurail Ireland Pass
The Eurail Ireland Pass gives you unlimited travel on the national rail network of the Republic of Ireland and Northern Ireland. You can choose from 3, 4, 5 or 8 days of unlimited travel within a 1 month period and travel days may be used consecutively or nonconsecutively. Only non-European residents can travel with a Eurail pass. If you're a European resident you can travel with an Interrail pass. To learn more and purchase the Eurail Ireland Pass, visit Eurail.
Tips
Before purchasing this pass, just make sure that you are going to get your money's worth by checking the fares to all of the places that you plan to visit on the Irish Rail website.
Be aware that in Ireland trains are typically more expensive than buses.
The Open Road Bus Ticket
Bus Éireann offer an "Open-Road" pass which is valid for travel on their scheduled services in the Republic of Ireland including expressway, commuter, local city and town services. For each Open-Road ticket purchased you can avail of 3 days of unlimited travel out of 6 consecutive days. You can extend your trip by purchasing extra "stamps" for your Open-Road ticket. To purchase the ticket and to learn more, visit the Bus Éireann website.
Tips
Before purchasing the ticket, just make sure that you are going to get your money's worth by checking the fares to all of the places that you plan to visit on the Bus Éireann website.
Bus Éireann may not be the fastest or cheapest way to travel between cities. There are other licensed private bus services in Ireland that may offer cheaper, faster trips to your destinations.
Please note that the 'Emerald Pass' and the 'Irish Explorer Pass' mentioned in many travel guides are no longer available.
10. Use City Bikes to Get Around Dublin, Cork and Galway
Using the City Bike Scheme is a fun and cheap way to get around the Irish cities of Dublin, Cork and Galway. A cheap three-day pass is available, which is perfect for visitors.
11. Save Money on Car Hire
If you are only planning short excursions, then Irish public transport is a cheap way to get around Ireland. But if you are planning on a trip around Ireland then hiring a car is a great way to get around as it provides you a great deal of flexibility and also allows you to travel on your own schedule.
Follow these tips to reduce your car hire costs:
If you are arriving in a city and plan to spend some time there before commencing your tour of Ireland, then save money by collecting your hire car on the day that you plan to commence your tour of Ireland. Cities like Dublin are very difficult to drive around and there is only limited and expensive parking.
Book your car rental in advance to get the best price.
Be aware that in Ireland, automatic vehicles are more expensive to rent than manuals.
The mountain ranges are not very steep in Ireland so you can generally get away with hiring a cheaper, smaller car if there are only a few of you travelling together. It can also save you a lot of money on fuel, which is very expensive in Ireland. In fact you'll be glad that you chose the small car when you get to the narrow Irish country roads and find yourself trying to squeeze past other vehicles and animals.
If you are planning on driving into Northern Ireland then make sure your rental company allows you to drive the hire car there. Some rental companies may even charge an additional fee to do so. The bigger car hire companies that also provide services in Northern Ireland usually cover you for travel to this area and don't typically charge an additional fee to do so. Be aware of this when you are shopping around for the best rates.
Most car hire companies charge a fee for additional drivers, so designate one person to do all of the driving (but be aware of driver fatigue).
Some car hire companies charge fees for dropping the car off in a different location than where you collected it from. Try and plan your trip so you can pick it up and drop it off at the same location.
It's expensive to hire a GPS from the car hire companies so depending on the length of your trip, it may be cheaper to purchase your own GPS with Irish maps, or Irish Maps SD card for your existing GPS, rather than hiring one from the car hire company.
Alternatively, you could use your phone to navigate by using an Irish road map app or using Google's free Offline Maps. Google Offline Maps allows you to access free maps for navigating that can be used offline i.e. you don't need wifi, data, or roaming to be able to use them. Follow this detailed guide on how to use Googles Offline Maps. Using your phone as a GPS will drain your battery quickly, so make sure you travel with a car phone charger so you don't get stranded. A portable external battery charger which can charge your phone and any other USB chargeable devices can also come in handy, but don't forget to purchase a travel adaptor with a USB charger to be able to charge your external battery. For easy navigating I also recommend you purchase a car phone mount holder.
Discounts on Sightseeing in Ireland
12. Visit Heritage Ireland Sites For Free
Historic sites owned by the Irish Heritage organisation offer free admission to their properties on the first Wednesday of each month. To plan your visit, check out a list of the free Wednesday sites on the Heritage Ireland website.
13. Purchase a Heritage Card
If you are planning to visit a number of Irish Heritage sites, it may be cheaper for you to purchase the Heritage Card. Check that you are going to get your money's worth by adding up the admission fees of the sites that you plan to visit.
14. Purchase a Dublin Pass
If you are planning to visit a number of attractions in Dublin, then consider getting the Dublin Pass. Arrange to collect your Dublin Pass from the airport as you can also use it on the Aircoach which takes you from the airport into the city. Just make sure that you are going to get your moneys worth by checking the admission fees to all the sites you plan to visit before purchasing the pass.
15. Purchase Your Attraction and Tour Tickets Online
Many attractions and tours offer a discount if you purchase your admission ticket online. For example, you can purchase discounted tickets online to the Guinness Storehouse (you get an additional discount if you plan to enter the Storehouse between 9.30am and 11.30am), Kylemore Abbey, Blarney Castle and for the Hop-on Hop-off Bus Tour etc… You don't even need to print your tickets, just show them your electronic ticket.
16. Get Student and Senior Discounts
If you have a valid student ID or you're 55 years or older, then take advantage of discounted student and senior rates at attractions and on public transport.
17. Visiting Dublin? Enjoy the Many Free Attractions
As well as paid admission attractions, there is also lots to see and do in Dublin for free. Check out FREE things to do in Dublin.
18. Visit during Ireland's Annual Culture Night
Each year Ireland hosts a Culture Night. There are lots of free events and live performances for all ages and tastes. In Dublin, a vast number of the tourist sites that usually charge an admission fee become free for the evening. If you are flexible with your travel schedule, then this is a great way to have a cheap holiday. To find out more, visit the Culture Night website.

Dining in Ireland
19. Cook Your Own Meals
The cost of eating out quickly adds up and it is much cheaper if you can cook for yourself. There are many hostels in Ireland that provide shared communal kitchens so you can cook your own food.
If you plan to stay in a location a bit longer than a few nights, then it may be more economical for you to rent an apartment or cottage which includes a kitchen.
Tips
Prior to your trip, when visiting food restaurants that have those little sachets of salt, pepper and sugar, grab a handful to take on your holidays.
Consider taking a small bottle of cooking oil with you. Just make sure that you dispense it into a secure, screw top bottle and seal it in a ziplock bag so that it won't leak through your luggage.
20. Pack Your Own Lunch
Ireland has so much beautiful countryside to enjoy, why not make the most of it by packing a picnic lunch? The added bonus is how much money you will save.
21. Drink Tap Water
The tap water in Ireland is safe to drink (I actually think it tastes quite nice). If you purchase a drink every time you get thirsty, the cost soon tallies up so try using a BPA free fold-able and reusable drink bottle. These bottles are very travel friendly as they can be rolled up and clipped on to your key ring or bag, or tucked into your pocket. When you're eating out, most places will have free water jugs or will provide you a free glass of tap water if you ask for it. Save that money for the pub!
22. Avoid Eating in the Main Tourist Areas
Although tempting to do so, eating in the tourist areas is generally more expensive. Use websites like Yelp to find out where the locals are eating. This will not only save you money, but generally give you a better food experience as well.
Some restaurants and bars offer 'early bird' dining rates between 5.30 and 7pm, so look out for these deals and take advantage of them.
Lunch menus are generally cheaper than dinner menus, so consider eating your main meal at lunch time.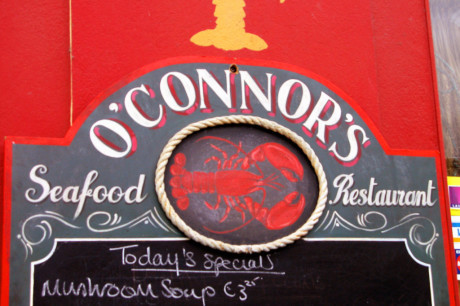 Exchanging Money in Ireland
23. Get the Best Money Exchange Rates
If you have a reputable money exchange service that provides you a free service with competitive rates, then exchange your money before you leave on your trip. Otherwise, a cheap way to get euro for your trip is to use your debit card to withdraw cash from an ATM when you get to Ireland. Check that your card has a Maestro, MasterCard, Cirrus or Visa symbol on it. Withdrawing money from an ATM usually gives you a good exchange rate, especially compared with those currency exchange counters. Your Bank will usually charge a small transaction fee (check with your Bank), so try and reduce the number of cash withdrawals that you make.
Tips
Your bank may limit the amount that you can withdraw each day, so check your limit with them before you go.
24. Be Careful When Using Credit Cards
International credit card fees quickly add up. So what are your alternatives to avoid getting a nasty shock when you come home to your credit card statement?
Use cash. It also allows you to keep a closer eye on how much you are spending and keeps you on budget.
Get a credit card that offers no exchange rate fees. Be aware that these cards can have high annual fees, so may not be worth getting. Also, you need to ensure that you can pay the amount owing, otherwise these credit cards typically charge very high interest rates.
If using your credit card for purchases, try to be billed in Euro instead of your home currency. This will generally get you a better exchange rate.
Be aware that credit card companies usually charge a fee to withdraw cash from your credit card, even if it's money that you have lodged on it. Some companies may not even provide the normal interest free period for cash withdrawals or even cover any money that you have lodged onto your credit card if it is lost or stolen. So basically if you need cash, withdraw it from your debit card.
Tips
Make sure that you have a Chip and Pin debit/credit card before travelling otherwise you may not be able to use if for purchases in Ireland. 
25. Use a Currency Exchange App
It can be difficult to keep track of your spending when using a different currency, so try using a currency exchange app to help you keep track of how much you are spending. Taking the time to check the cost of an item in your own currency has the added benefit of making you think twice before splurging on those unnecessary purchases.
Roaming Charges
26. Avoid Roaming Charges
Purchase a cheap prepaid sim card when you arrive in Ireland. The supermarket chain Tesco offer good prepaid sim card deals that provide cheap international calling rates and can also include data. Alternately, you can purchase a calling card from most newsstands.
Shopping
27. Buy Irish Food and Drink Souvenirs from the Supermarket
It's always tempting to splurge when you get to the gift store at the end of your tour, but check the prices in the supermarkets such as Tesco, Dunnes, Supervalu first, as they may be much cheaper e.g. Irish Whiskey, chocolates and treats.
Don't leave Ireland without these 15 awesome Irish made souvenirs.
28. Reclaim Your VAT
Shopping in Ireland can be expensive because many goods carry a hefty 23% of Value Added Tax (VAT). However, non-EU visitors may get a refund on goods that they purchase under the 'Retail Export Scheme' if they take them out of Ireland within three months of purchasing them. If you want to participate in this scheme, then check if the retailer is participating in the scheme before making your purchase. You should also check whether they are operating directly in the scheme or with a VAT Refund Agent as this will effect who you contact for any inquiries that you may have with your refund application.
If you are dealing with a VAT Refund Agent, then you will need to follow their process. Some VAT refund agents use a swipe card which is used at the point of sale to record the details of each qualifying purchase. As you exit Ireland you will deposit your documentation for purchases with the agent and the agent will make the necessary refund to you.
Retailers who participate under the Retail Export Scheme will give you an export voucher for your purchases. Present this voucher to a Customs Officer as you depart or leave it in the 'drop-box' at the airport. The certified voucher will be returned to the retailer, who will then issue the refund.
Note that you cannot claim VAT on services (they charge a reduced VAT rate though) and as no VAT is paid on books or children's wear, you cannot claim for these items either. Find out more on the Irish Revenue website.
Tips
Custom officers may inspect your items as you depart, so have them easily available in your bag.
If you purchase a good that costs €2,000 or more (including VAT) you must present the item along with the export voucher to Customs for inspection on departure.
RelocatingtoIreland.com is a participant in the Amazon EU, Amazon Services LLC Associates and Programme, Amazon Canada, and Booking.com affiliate advertising programs designed to provide a means for sites to earn advertising fees by advertising and linking to Amazon.co.uk, amazon.com, amazon.ca and booking.com.

 

Regardless, I only recommend products or services that I personally believe will add value to my readers.