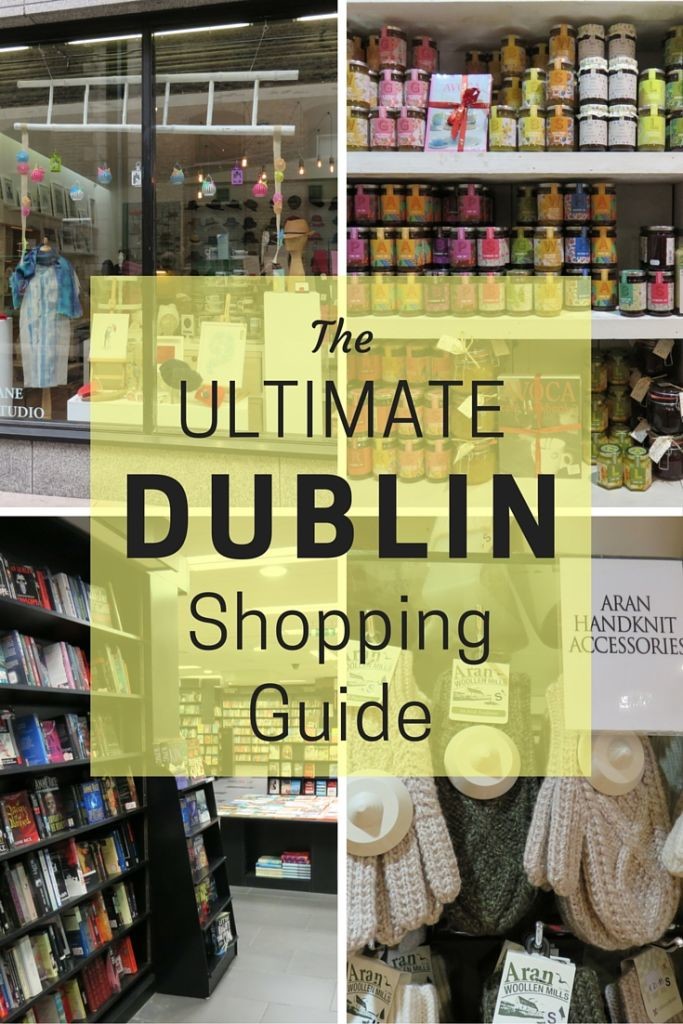 Dublin's abundance of quality, unique stores makes it the perfect city to enjoy a shopping spree. Whether you're hunting for the perfect souvenir, looking for gifts for family and friends, or to add some of the latest fashion and accessories to your wardrobe, Dublin's got it covered. Regardless of your budget, or how much room you have available in your luggage, there is something to suit everyone. You will find a wonderful collection of items including those made by talented Irish designers and craftsmen.
Tips
Dublin city shopping areas:

On the north side of the river, the shopping area is in and around O'Connell Street and Henry Street
On the south side of the river, the shopping area is in and around Grafton Street. There is also great range of more tourist oriented shops supporting Irish made products on Nassau Street (which runs beside Trinity College) and around the Temple Bar area.

Many goods in Ireland carry a hefty 23% of Value Added Tax (VAT). Find out how you can save money by reclaiming your VAT.
Shopping for souvenirs? Check out Ireland's 15 Best Souvenirs for some inspiration.
For main stream Irish food items such as Cadbury's and Whiskey, the supermarkets usually have the best prices compared to gift stores.
Ireland passed a plastic bag tax in 2002. So unless you want to pay 15 cents for a bag, then remember to bring your own reusable shopping bag with you.
While your visiting Dublin, check out these 15 free things to do in Dublin, visit Dublin's 7 must see gardens, or enjoy these 5 stunning walks in and around Dublin. 
Irish Made Art, Craft, Clothing and Gifts
Avoca
11-13 Suffolk Street, Dublin 2
Avoca Handweavers is Ireland's oldest weaving mill. The mill is located in Avoca village and was founded by three sisters in 1723 and is known for its colourful designs and quality woollen products. In 1974 the Pratt family took it over and it is now a family run business. Avoca is now famous for its colourful knits and delicious food. The Dublin Avoca store is spread out over four wonderful floors.
On the basement level there is a food hall with an excellent range of Avoca delicious gourmet food. The next two floors are shopping, and then the top fourth floor is their wonderful Avoca café. As well as their own products, they also sell a range of other products including Irish made items such as clothing, candles, beauty, books and gifts.
Kilkenny
6 Nassau Street, Dublin 2
The Kilkenny store showcases the best of Irish craft and design. It's full of Irish made goods including jewellery, clothing, crafts, crystal, food and giftware. They sell major labels such as Solvar, Belleek, Louis Mulcahy, Waterford and Newbridge alongside lesser known, but no less talented Irish designers. There is also an excellent café upstairs if you're in need of a coffee and cake to keep your strength up for more shopping.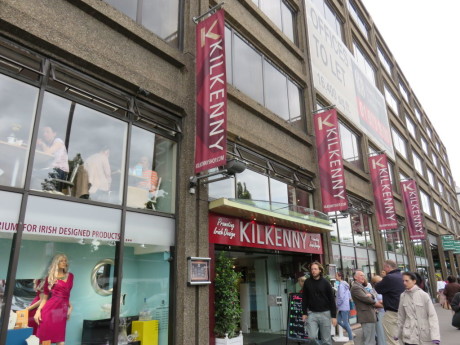 House of Ireland
37/38 Nassau Street, Dublin 2, Dublin 2
House of Ireland stock a beautiful range of some of the best Irish crystal, jewellery, linen and knitwear. They sell well known Irish brands such as Orla Kiely, West End Knitwear, Newbridge, Enibas, Waterford and Galway Crystal. It's a large store, so put the time aside to enjoy a thorough browse.
Carraig Donn
Jervis Shopping Centre (Upper Ground Floor), 125 Abbey Street Upper, Dublin 1
Carraig Donn sell a range of Irish made clothing, knitwear, jewellery and giftware.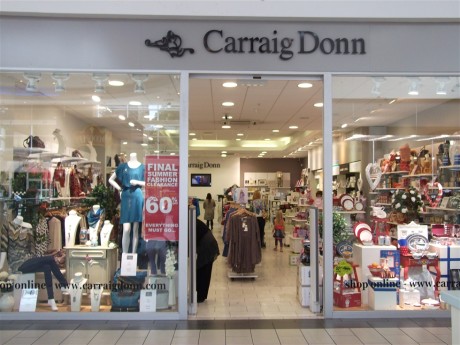 Cow Lane Designer Studio
2 Pudding Row, Essex Street West, Dublin 8
Cow's Lane Designer Studio is a treasure trove of handmade Irish art and design. The studio is a colourful, fun and quirky shop which is run by a group of independent artists. There is something for everyone including jewellery, millinery, toys, kitchenware, sculptures, furniture, clothing and accessories, art, photography, candles and pottery.
It's the perfect place to browse and be inspired by the many skills and disciplines on display. When you shop at Cow Lane Designer Studio you have the added advantage of meeting the designers and they can even adapt existing designs to your exact specifications.
The Loft
Powerscourt Townhouse, Dublin 2
The Loft Market is a boutique fashion and design collective in the heart of Dublin city that supports local independent designers. It's a great place to spot Dublin's up-and-coming fashion and product designers, artists, jewellers, vintage collectors. The Loft has become a favourite amongst local fashionionistas and city-hopping hipsters with its ever changing cast of Dublin's creative talents.
Designist
68 South Great George's Street, Dublin 2
Designist is a design led gift and homeware store, selling a range of products that represents the best of Irish (and International) design. Their collection of goods are beautiful, useful and very affordable.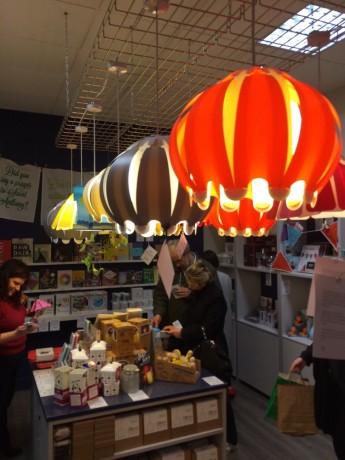 Jam Art Factory
14 Crown Alley, Temple Bar & 64/65 Patrick Street, Dublin 8
If you enjoy quality, unique art, the Jam Art Factory is a great shop to check out. The Jam Art Factory is an independent gallery and design shop. It showcases the best in Irish art and design including ceramics, textiles, jewellery, street art, prints and a whole lot more. They work with up and coming artists, designers, and students to keep the shops stocked with fresh and exciting art. There's something to suit all budgets.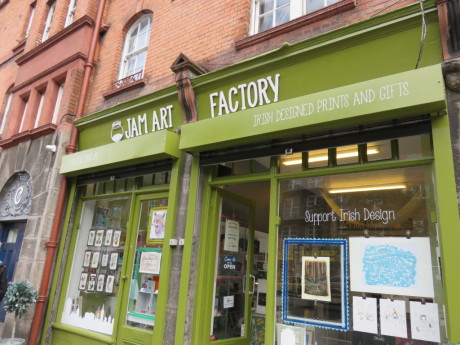 The Sweater Shop
30 Nassau Street, Dublin 2
If you're after some fashionable, quality Irish knitwear, then the family run Sweater Shop is worth checking out. It has a huge selection at very competitive prices and stock everything from hats, scarves, gloves, sweaters to jackets.
Bookstore
Chapters
Ivy Exchange, Parnell Street, Dublin 1
Books are very reasonably priced in Ireland as they don't attract their Value Added Tax (VAT). Chapters is a great place to spoil yourself if you're a book lover. Chapters is an independent bookstore that offers an excellent selection of books both new and second hand. It's so massive that it runs over two floors. Upstairs you will find a brilliant range of second hand books at an affordable price.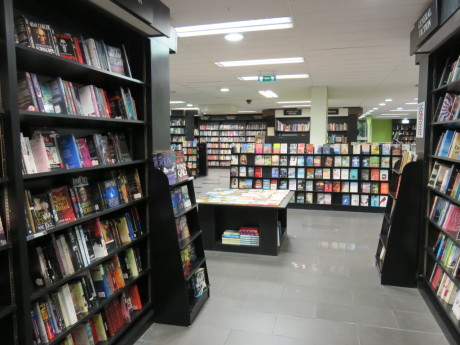 Food
Sheridan's Cheesemongers
11 South Anne Street, Dublin 2
This is cheese heaven. Sheridan's Cheesemonger offer a delicious range of top quality cheeses from Ireland. Sheridan's stock a selection of Irish cheeses including Durrus, Clonmore, Coolea and Cooleeney Raw Milk Cheese. They also stock an excellent range of continental cheeses including Cravero Parmigiano Reggiano, Dongé Brie de Meaux, and Marcel Petit Comté. Alongside your cheese purchases, you can also choose from a selection of wine and cheese accompaniments.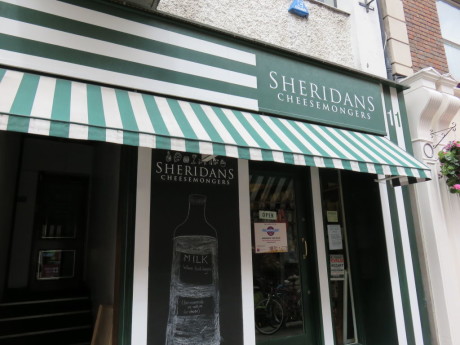 Butlers Chocolate Café
Dublin 1: 31 Henry Street; Unit 1B Ground Floor Jervis Shopping Centre, Jervis Street; 4 Lower Liffey Street.
Dublin 2: 9 Chatham Street; 51a Grafton Street; 18 Nassau Street.
Butlers Chocolates use high quality ingredients to create a range of delicious flavours. Within their chain of chocolate stores they also operate cafés. I really enjoy the hot chocolate and love that they give you a free chocolate with your drink. You can't miss these stores as they are dotted all over Dublin city and are a great place to stop for refreshments and a chocolate fix.
Murphy's Ice Cream
27 Wicklow Street, Dublin 2
Shopping is hot work, so cool down with some Murphy's ice cream. They make real ice cream at Murphy's and don't use colourings, flavourings, or powdered milk. Their ice cream is made using free range eggs, organic sugar and milk from the rare, indigenous breed of Kerry cow. They offer a unique and delicious range of interesting flavours including Dingle Sea Salt and Caramelised Brown Bread.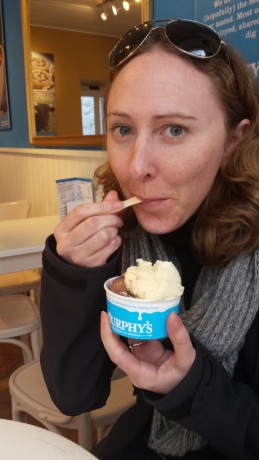 Whiskey
Celtic Whiskey Shop
27-28 Dawson Street, Dublin 2
The Celtic Whiskey Shop is Ireland's premier whiskey shop and is based in the heart of Dublin city centre. This is a wonderful shop for whiskey lovers to explore and experience some whiskey tasting. The Celtic Whiskey Shop stock an excellent selection of Irish and Scottish whiskey as well as whiskey from around the world. For those of you that are not whiskey fans, then don't worry, there is also a great range of wine, spirits, cider, and beer, many of which have been made in Ireland.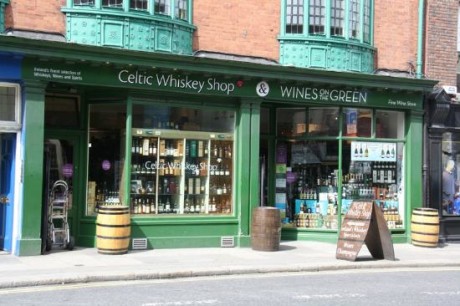 Antiques
Francis Street Arts & Antiques Quarter
Francis Street, Dublin 8
The Francis Street Arts & Antiques Quarter is brimming with antiques shops. Visiting the antique shops on Francis Street is a really enjoyable experience. My favourite game to play with friends is to 'guess the price' – Antiques Roadshow style – and then flipping over the price tag to reveal the winner. Although the furniture pieces will only suit those that can afford to ship it home, there is also a range of smaller items from jewellery to ornaments.
Popular Irish Department Stores
Brown Thomas
88-95 Grafton Street, Dublin 2
Brown Thomas is Ireland's upmarket department store specialising in high end luxury goods. This store will suit those of you not fazed at paying high prices for upmarket products. Brown Thomas stock well known brands from Cartier to Jimmy Choo and Hermes.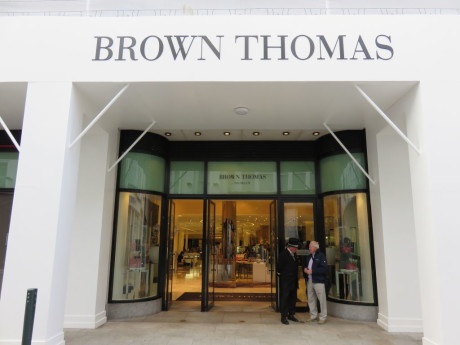 Penneys
47 Mary Street & 39 O'Connell Street, Dublin 1
Looking to do some bargain shopping? Ireland's beloved budget retailer Prenny's (branded as Primark outside of Ireland) stock clothing, beauty products and a range of homeware. Be warned, when you see the cheap prices it's easy to get carried away and buy things you do not need!
Markets
Merrion Square Art Markets
Merrion Square, Dublin 2. Sundays 10am to 6pm
On Sundays you will find an art market featuring talented Irish Artists. They hang their artworks for sale on the railings surrounding the pretty Merrion Square Park. This open-air weekend art exhibition has about 100 artists exhibiting and is the perfect place to pick up quality art. There is a great selection of work ranging from traditional to contemporary styles. Every year new artists are allowed to exhibit, so the work and artists keep changing.
No commission is included in the price of the paintings so you will discover that prices are quite reasonable. You also get to meet the artist, discuss their art and get an insight into the colourful life of the artist.
Designer Mart at Cow Lane
Cow's Lane, Temple Bar, Dublin 2. Saturdays 10am to 5pm.
The Designer Mart features handmade and original designs that you can buy directly from the designers. If you're into fashion, like funky clothing, crazy hats and retro handbags, this is the place to be. There is also a great range of homeware, jewellery and art.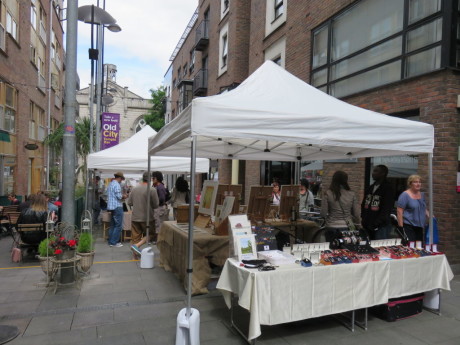 George's Street Arcade
South Great George's Street, Dublin 2
Located in a beautiful Victorian building, this market features art, kitch, fortune tellers, vintage clothing, second hand books, food and coffee.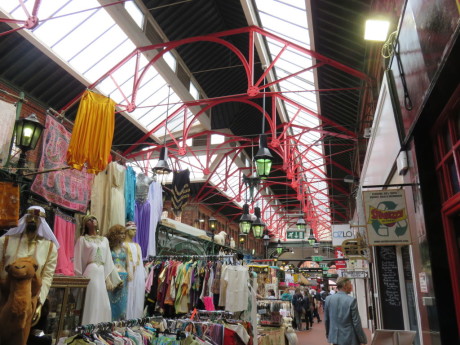 Temple Bar Food Markets
Temple Bar, Saturdays 10am to 4.30pm
All that shopping really works up an appetite. If you in the Temple Bar area on Saturdays, head to the Temple Bar Food Markets. They thread their way through the streets of the Temple Bar area which provides a lively atmosphere and backdrop. The markets commence at a leisurely 10am on a Saturday and run to about 4.30pm. Look out for the cronuts! There is also a book market which starts at 11am and is also open on Sunday.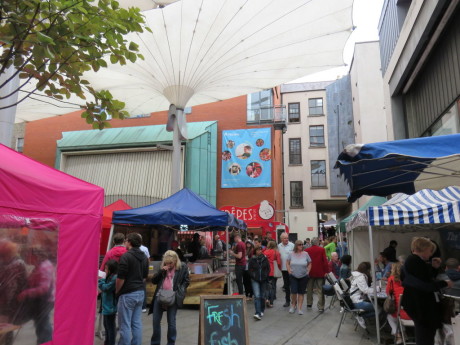 Accommodation Options in Dublin
Click here to search all available accommodation in Dublin.
BudgetModerateLuxury

RelocatingtoIreland.com is a participant in the Amazon EU, Amazon Services LLC Associates and Programme, Amazon Canada, and Booking.com affiliate advertising programs designed to provide a means for sites to earn advertising fees by advertising and linking to Amazon.co.uk, amazon.com, amazon.ca and booking.com.

 

Regardless, I only recommend products or services that I personally believe will add value to my readers.