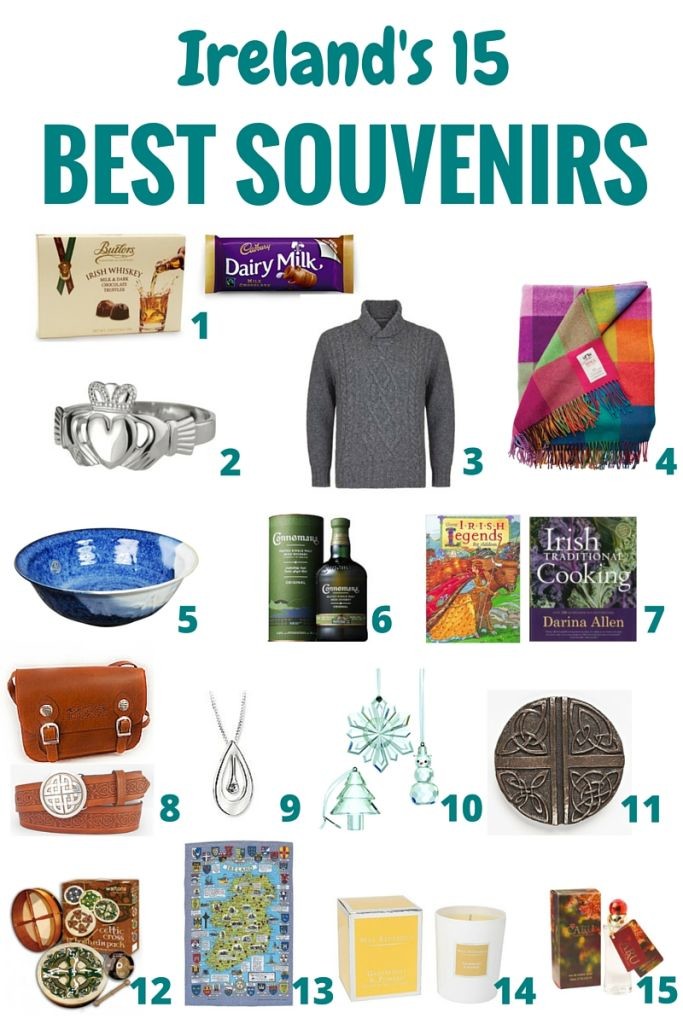 Looking to buy some quality gifts and souvenirs to take home and not a cheesy leprechaun hat? Support Irish producers by buying quality souvenirs made by Irish designers and craftsmen. Whether it's a souvenir for yourself, or intended as a gift for friends and family, these 15 Irish made souvenirs will become treasured possessions that will be an everlasting reminder of your special time in Ireland.
If you run out of room in your luggage, worry about paying extra luggage allowance or getting through customs or simply just get too busy enjoying the sites of Ireland to find time for souvenir shopping, then don't stress. The best thing about these souvenirs is that you can order them online and have them delivered and waiting for you when you arrive home.
1. Irish Chocolate
Ireland is the best place to go if you love milk chocolate. The secret to Irish chocolate is Ireland's super creamy milk. Ireland's dairy cows benefit from the rich green grass which grows in abundance due to the country's year-round temperate climate which makes the cow's milk much more creamy and rich. Stock up on Cadbury's at the supermarkets in Ireland (except Lidl and Aldi, which only stock their own brand of chocolate).
If you have a little more money to spend and have a more refined taste, then go for Butlers chocolate. They have a great range of products to choose from including hot chocolate, chocolate bars and blocks of chocolate in a variety of flavours (my favourite is honeycomb). There is also the gift boxed range of luxury filled chocolates. There is something to suit everyone at Butlers, including [amazon text=Jameson Irish Whiskey chocolate&asin=B00DI3GZNM.
Tips
If you become seriously addicted to the Irish Cadbury chocolate but live in the USA, don't panic. You can purchase a variety of Irish Cadbury and UK Cadbury (which is very similar in quality and taste) chocolate on Amazon.
2. Claddagh Ring
The Claddagh ring is a traditional ring which represents love, loyalty and friendship. It is worn by both men and women. Love is symbolised by the heart, loyalty is symbolised by the crown and friendship is symbolised by the clasped hands.
When worn on the right hand with the tip of the heart pointed towards you it means that you are in a relationship. If it's pointed outwards, then it means that you are single and available. When worn on the left hand with the tip of the heart pointed towards you, it means that you are married. If it's pointed outwards, it means that you are engaged.
This Claddagh ring is available in:
3. Irish Aran Wool Knits
Take home a traditional Irish Aran sweater, gloves, scarf or hat. These gorgeous knits will keep you warm and stylish. Available in a range of designs and colours for men, women and children, there's something to suit everybody.
4. Avoca Woollen Throws
These beautiful Avoca woollen throws are made by Ireland's oldest weaving mill. The mill is located in Avoca village and was founded by three sisters in 1723 and is known for its colourful designs and quality woollen products. These stunning Avoca blankets will add a stylish flair to your home and are the perfect companion for snuggling on the couch and as an extra warm layer at night.
5. Irish Pottery and Ceramics
Ireland is home to a diverse range of artists creating unique ceramic and pottery pieces like those from the popular Kiltrea Pottery, Belleek Pottery and Castle Arch Pottery. Choose from either a functional piece such as a platter, mugs or bowl, or something more decorative, such as a wall plaque, or Christmas ornament.
6. Irish Whiskey
Ireland is the home of quality whiskey. If you are a whiskey lover then you are in for a treat, because alongside the better known Jameson Whiskey is a range of other excellent whiskeys to choose from:
7. Irish Books
Whilst bookstores have been closing down around the world, Ireland's love of literature means that you will still find them going strong in Ireland. Try iconic Irish literature from James Joyce or, my personal favourite, Oscar Wilde.
For kids gifts, try Great Irish Legends for Children written by Irish author Yvonne Carroll. This volume of six traditional Irish legends includes stories that are a rich part of Irish history and lend themselves to great storytelling.
For those that like to cook, this new edition of Darina Allen's bestselling Irish Traditional Cooking is the perfect souvenir. It contains 300 traditional dishes, including 100 new recipes such as Sea Spinach Soup, Potted Ballycotton Shrimps with Melba Toast and Rhubarb Fool. Each recipe is accompanied with tips, tales, historical insights and common Irish customs, many of which have been passed down from one generation to the next.
8. Irish Leather Goods
Check out the Lee River range of leather goods in their shop in Cork, Ireland. From Celtic embossed belts to leather satchels and wallets, they have something to suit everyone. These beautiful leather goods are handcrafted using 100% genuine vegetable tanned Italian leather. If your trip doesn't include a visit to Cork, then don't despair, you can still purchase their items online from Etsy.
9. Newbridge Silver
Newbridge Silverware is Ireland's premier designer and producer of silverware. Their collection includes a beautiful range including jewellery, and Christmas ornaments.

10. Irish Crystal
Ireland is home to two leading crystal companies, Galway Crystal and Waterford Crystal. Both offer a beautiful range of crystal glasses and giftware featuring exquisite designs. I especially like Galway Crystal Christmas decorations and the Waterford Crystal picture frames.
11. Irish Art
Ireland is home to many talented artists. For a unique souvenir, consider a bronze Celtic plaque from Wild Goose, or these framed pieces of actual Irish bog cut into adorable art pieces by Bog Buddies.
12. Irish Musical Instruments
Musical instruments make a great souvenir gift for kids and music loving adults! The two most popular traditional Irish instruments are the bodhrán and whistle.
Made in Ireland, this traditional Irish bodhrán is made from genuine goatskin. This bodhrán is an authentic traditional Irish instrument. This is perfect to use for ceilís (a traditional Irish social gathering, which usually involves playing Irish folk music and dancing) or as a decorative piece.
This traditional Irish whistle will keep you entertained for hours. Available in the keys of D and C, they are made from high-quality materials and finished to produce the perfect whistle sound that has made them so popular.
13. Irish Linen
Tea towels made from Irish Linen is a versatile souvenir that can also be framed as a piece of art. Some beautiful examples are Ulster Weavers Woodland Hare and this historical map of Ireland displays crests, shields and regalia of various towns and counties of Ireland.
14. Scented Candles, Soaps and diffusers
Bog Standard is a boutique Irish Company that produces scented candles, soaps and scented sachets. Inspired by Irish landscapes, wildflower woodlands and wind blown coastlines, the fragrance collections reflect the wonderful Irish natural heritage.
15. Perfume
Fragrances of Ireland are a boutique perfumery based in Wicklow, Ireland. Their range of perfumes are perfect for those tired of wearing the mainstream, run of the mill department store perfumes. My personal favourite is their Caru Eau de Toilette. Caru is an ancient Irish word meaning 'to love'. This fragrance captures the last days of summer and is a blend of summer and autumnal fruits, crisp green top notes warmed with rich florals of iris and freesia, a heart of red berries resting on bittersweet amber, vanilla and fragrant woods.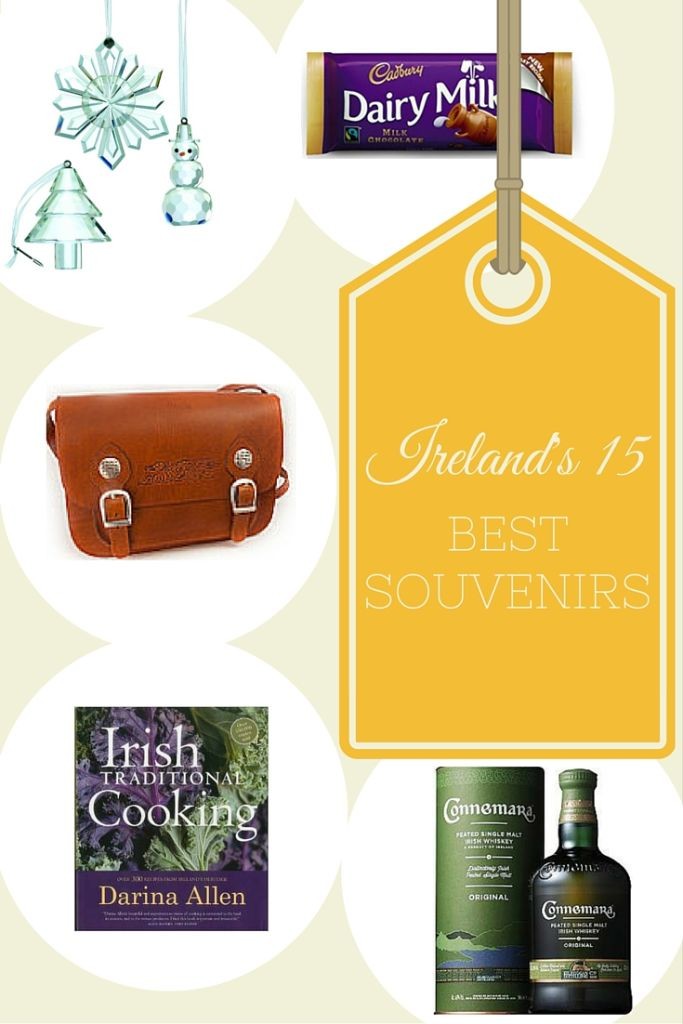 *Please note that prices are subject to change in accordance with exchange rates or at the Sellers discretion.
RelocatingtoIreland.com is a participant in the Etsy, Amazon EU and Amazon Services LLC Associates and Program, an affiliate advertising program designed to provide a means for sites to earn advertising fees by advertising and linking to etsy.com, Amazon.co.uk and amazon.com. Regardless, I only recommend products or services that I personally believe will add value to my readers.