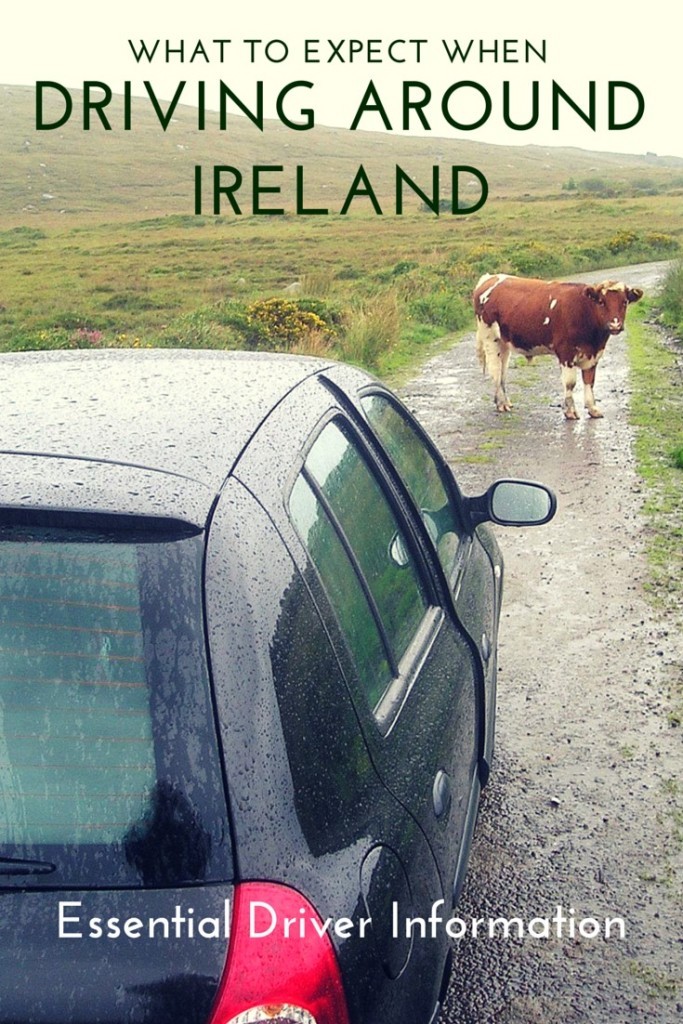 Driving in another country can be stressful, especially if it means driving on the other side of the road and being confronted with new driving challenges such as the dreaded roundabout. But don't despair, with a little bit of preparation you too can gain the necessary knowledge that you need to tackle those Irish roads with confidence.
Essential information for driving in Ireland:
Navigating Around Ireland
When it comes to navigating, you have three options:
If your planning on renting a car, then depending on the length of your trip it may be cheaper to purchase your own GPS with Irish maps, or Irish Maps SD card for your existing GPS, rather than hiring one from the car hire company.

Alternatively, you could use your phone to navigate by using an Irish road map app or using Google's free Offline Maps. Google Offline Maps allows you to access free maps for navigating that can be used offline i.e. you don't need wifi, data, or roaming to be able to use them. Follow this detailed guide on how to use Googles Offline Maps.

Using your phone as a GPS will drain your battery quickly, so make sure you travel with a car phone charger so you don't get stranded. A portable external battery charger which can charge your phone and any other USB chargeable devices can also come in handy, but don't forget to purchase a travel adaptor with a USB charger to be able to charge your external battery. For easy navigating I also recommend you purchase a car phone mount holder.

And finally, you could also purchase an Irish road map. At least it's reliable and won't run out of battery or malfunction like the electronic options!
Irish Road Rules
Drive on the left side of the road.
Speed is measured in kilometres per hour (km/h). 1km is equal to 0.62miles
The speed limits will be clearly displayed on a road sign. Generally,

Motorways are 120km/h (75 mph)
National roads (primary and secondary roads) are 100km/h (62mph)
Non-national roads (regional and local) roads are 80km/h (50mph)
Roads in built up areas such as towns and cities are 50km/h (31mph)
School zones are 30km/h (19mph)

If you are towing something, then the maximum speed you can go on the motorways and national roads is 80km/h (50mph). There are also speed limits that apply to buses and trucks.
Yield to emergency vehicles
You are required to have the following documents when driving
At roundabouts, give way to your right.
How to Drive on a Roundabout in Ireland
For those of you who are unfamiliar with roundabouts, they can be daunting. But follow this information to help you get to more familiar with them.
Because all traffic in Ireland drives on the left hand side of the road, the roundabouts go clockwise.
When you approach a roundabout slow down and prepare to give way. You have to give way to traffic already on the roundabout but if the road is clear you may proceed.
There are many roundabouts in and around City Centres, Main Road Junctions and entrances and exits to Dual Carriageways (Two lanes each way).
You will also find roundabouts in and around city centres, main road junctions, entrances and exits to dual carriageways (two lanes each way), on exits from Motorways, and in some built up locations. They are built to effectively replace traffic lights at junctions to allow for a smoother flow of traffic.
You may also encounter what we call "mini roundabouts". These are effectively smaller and are basically small raised areas in the centre of a junction. The same rules apply to these as above.
If this is your first time to encounter a roundabout, take care. Approach with caution and only proceed when your exit is clear.
Irish Safety Regulations
Seatbelts are compulsory for all occupants of the vehicle.
Children under 12 years of age must not travel in the front seat of the vehicle.
Babies and children under 3 years as well as children under 150cm and weighing less then 36kg must use the correct child seat or booster seat.
Motorcyclists are required to wear helmets.
Drink and drug driving is an offence in Ireland. The Garda (police) carry out random drink and drug driving checks. If you refuse, they will take you down to the local Garda office for a blood and urine test. If you continue to refuse testing then you can face disqualification from driving.

The legal limit for fully licensed drivers is 50 milligrams of alcohol per 100ml of blood.
The legal limit for professional and learner drivers is 20 milligrams of alcohol per 100ml of blood.

It is illegal to hold a mobile/cell phone while driving.
If you are involved in an accident, you must stop at the scene.
What to Do in an Accident
If you are involved in an accident, you must stop at the scene, no matter how extensive the damage is. Take the details of the other driver:
Name
Address
Vehicle owner details (it may not be the owner of the vehicle that is driving at the time of the accident)
If anyone is injured in the accident and/or there is property damage, you should report it to the Garda (police).
If you can, you should also take photographs of the scene of the accident and all damaged property (try to include the entire vehicle in case damage occurs after the accident and they attempt to attribute it to the accident). This can be submitted to the insurance company and Garda if necessary.
Tips
The emergency number for the Garda and ambulance services is 112 or 999.
What to Expect When Driving Around Ireland
Because Ireland drives on the left side of the road, they drive right-hand drive vehicles, meaning the driver sits on the right side of the car with the front passenger on the left.
Most cars in Ireland are manual drive. When hiring a car, you will find that automatics come at a premium.
Irish roads are generally in good condition with a decent network of highways. However, country roads can be narrow and windy, so take care and drive with caution.
Road signs are in English and sometimes also Irish.
In city areas, especially Dublin, expect traffic to be slow at all times throughout the day. You can also expect narrow roads and one way roads.
Parking is limited in the city areas, particularly Dublin. Don't be tempted to park illegally as they love to clamp and impound cars.
Look out for delivery vehicles and trucks that pull over in no stopping zones to make their deliveries. Be patient and ready to wait if the road is too narrow to go around them.
Expect lots of roundabouts.
Ireland operate speed cameras, however, there are not as many as you may expect in the UK and Australia
Like in many European countries, petrol prices in Ireland are particularly high. This is partially due to the steep fuel taxes.
Irish people tend to drive quite fast, especially the locals who know the road much better than you. Make sure that you regularly pull over to let people get past you. Although the country roads are narrow, there are usually plenty of areas that you can safely pull over.
Ireland has toll roads. If you wish to avoid them then most GPS's have this option. However, the alternative route can be much slower.
Expect walkers, cyclists and farm traffic such as escaped animals grazing on the road side or animals being herded, tractors and machinery as well as horses being ridden or pulling wagons. Horse traffic is even common in the city areas!
In gloomy, overcast conditions, turn your headlights on to help you be seen by others on the road.
Take your time and expect it to take longer than you may be used to get to your destination.
Get an Irish Maps SD card for your GPS or buy a GPS with Irish maps to help you get around. A good Irish road atlas for those times that the GPS lets you down is also a good investment!
Tips
For further information about the Irish road rules and regulations, visit Ireland's
Road Safety Authority website
. Their website allows you to view, download, and listen to the Irish road rules.

Toll Roads in Ireland
There are eleven toll roads in the Republic of Ireland:
M50 Barrier-Free Toll
M1 (Gormanston – Monasterboice)
M3 (Clonee – Kells)
M4 (Kilcock – Enfield – Kinnegad)
M7/M8 (Portlaoise – Castletown/Portlaoise – Cullahill)
N6 (Galway – Ballinasloe)
N8 (Rathcormac – Fermoy Bypass)
N25 (Waterford City Bypass)
Limerick Tunnel
East-Link Bridge
Dublin Port Tunnel
Everyone who drives through these toll roads is expected to pay, regardless of whether you are just visiting Ireland. All of the toll roads, except the M50, have conventional barriers where you can pay cash as you drive through.
The M50 operates a barrier free tolling system. If you intend to travel on the M50 in a rental car, you should contact your car rental company in advance to find out if your rental agreement covers the payment of toll charges. Some companies will include toll charges in your bill; others will require that you pay all toll charges yourself.
If you are required to pay toll charges, you can pay for your M50 journey using any of the following methods:
Online at eFlow.ie – select 'I Want to Pay a Toll' on the home page and follow the page guidelines.
In person with cash or card at any retail outlet nationwide that has the Payzone sign.
Phone one of the customer service agents on LoCall: 1890 50 10 50 from the Republic of Ireland, 0845 30 15 405 from the UK, or +800 50 10 50 11 from any other country. If you are having difficulties with these numbers please try +353 1 4610122.
If you live in Ireland and plan to regularly travel through the tolls, then you can set up an account with eFlow and get an electronic tag for your vehicle. This will also give you a cheaper rate for the M50 toll.
If you are only an occasional user of the M50, you can sign up for a Video Account. As you pass through the M50 barrier free tolling system, the cameras will read your registration plate and charge you accordingly. You will also receive a discount on your toll.
Irish Driving Offences Penalty Points System
Ireland has a penalty points system for driving offences. Find out more about the penalty points, fixed charges, and bans on Ireland's Road Safety website.
Irish Vehicle Breakdown Services
Don't risk being stuck with a broken down vehicle in the middle of the Irish countryside. Get peace of mind by signing up for breakdown cover. If you are hiring a car, this service should be provided by the car hire company.
If you have comprehensive insurance, then breakdown service may be provided as part of your cover. However, the service that they provide may be limited, so check before joining any breakdown service.
The main Irish providers of breakdown services are:
Irish Traffic Reports
Listen out for traffic reports using:
RelocatingtoIreland.com is a participant in the Amazon EU and Amazon Services LLC Associates and Programme, an affiliate advertising program designed to provide a means for sites to earn advertising fees by advertising and linking to Amazon.co.uk and amazon.com. Regardless, I only recommend products or services that I personally believe will add value to my readers.