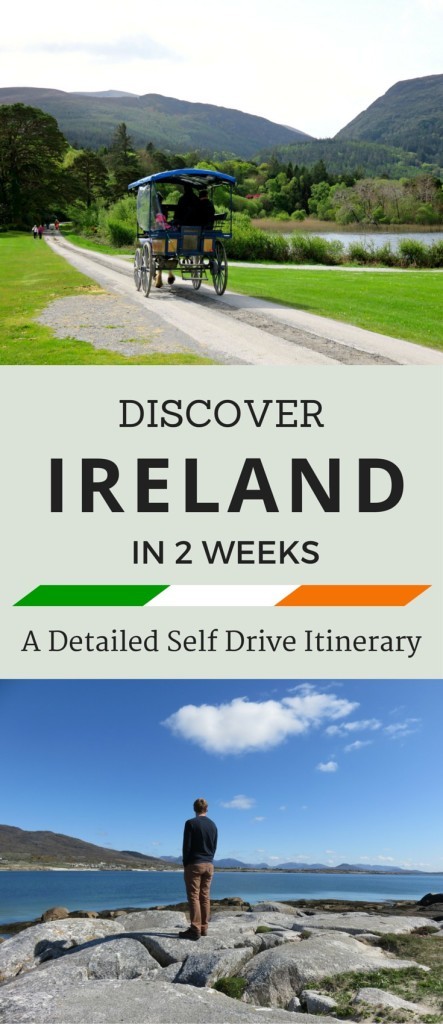 Use this detailed, two week self-drive itinerary and discover the very best that Ireland has to offer. This itinerary has been created as a flexible schedule that can be adapted to meet your personal preferences as well as the length of time that you plan to spend in Ireland. Take days/sites out or even add in additional days for a more leisurely pace that will allow you to see even more of Ireland. Of course this itinerary does not include everything that Ireland has to offer, only the highlights that you can squeeze into two weeks. But you can catch up on the places that you miss when you return for your second trip!
Please note that the driving times given are approximate only and do not take into account where your accommodation is located, the weather conditions, or the detours that you may wish to take. Although Ireland is a relatively small country, don't underestimate driving times. Roads can be narrow and windy and there is just so much to see and do that you will be regularly pulling over to explore and take photos. To better prepare yourself, learn more about what to expect when driving around Ireland, including how to tackle those Irish roundabouts.
Tips
Wondering what to pack? Here is a list of essential items to pack for your trip to Ireland.
When it comes to navigating, you have three options:

If your planning on renting a car, then depending on the length of your trip it may be cheaper to purchase your own GPS with Irish maps, or Irish Maps SD card for your existing GPS, rather than hiring one from the car hire company.

Alternatively, you could use your phone to navigate by using an Irish road map app or using Google's free Offline Maps. Google Offline Maps allows you to access free maps for navigating that can be used offline i.e. you don't need wifi, data, or roaming to be able to use them. Follow this detailed guide on how to use Googles Offline Maps.

Using your phone as a GPS will drain your battery quickly, so make sure you travel with a car phone charger so you don't get stranded. A portable external battery charger which can charge your phone and any other USB chargeable devices can also come in handy, but don't forget to purchase a travel adaptor with a USB charger to be able to charge your external battery. For easy navigating I also recommend you purchase a car phone mount holder.

And finally, you could also purchase an Irish road map. At least it's reliable and won't run out of battery or malfunction like the electronic options!

Looking for some inspiration for your road trip? Try Frommer's 25 Great Drives in Ireland.
Many Irish roads have tolls. You can avoid them if you wish to (most GPS's have this function), making your trip a little longer. Learn more about the toll roads in Ireland.
When renting a vehicle most companies will accept a driver's licence from the country that you reside in. Learn more about the Driver Licensing requirements in Ireland.
As you drive down the west coast of Ireland, you will see lots of brown and white 'Wild Atlantic Way' signs which lead you down the coastal roads, providing you spectacular coastal views.
If you're a keen hiker, then consider planning your walks using the website WalkingRoutes.ie, or download the free Walking Routes Ireland app from the Google Play Store.
On a budget? Historical sites owned by Heritage Ireland offer free admission to their properties on the first Wednesday of each month. Find out more tips for travelling around Ireland on a budget.
Take a picnic lunch so you can pull over and enjoy it in the Irish countryside.
Planning on buying some souvenirs for yourself and as gifts? Don't leave Ireland without these 15 Irish souvenirs.
Day 1: Arrive in Dublin
Depending on how far you have travelled and how much energy you have to spare, spend the remainder of your day exploring Dublin. Dublin is a flat and relatively small city, so is very easy and enjoyable to walk around. However, if you do need to use transport Dublin has a range of public transport services including buses, trams and trains. Find out how to use Dublin's public transport services and about the prepaid Visitor Leap Card that gives you unlimited travel for up to three days. There are also lots of taxis available in Dublin and they are reasonably priced, regulated, and licensed. Find out how to safely use Taxis in Ireland.
Optional Activities
BudgetModerateLuxury

Tips
The Dublin city roads are narrow and crowded, so it can be frustratingly slow to get around Dublin by car. Parking can also be difficult and costly, so consider saving money by collecting your hire car from a city collection point on the day that you plan to head out of the city.
Day 2: Dublin
Continue to explore Dublin city and its surrounding areas.
Optional Activities
Day 3: Dublin to Donegal County
Approximate driving time: 3hr 20min + depending on detours
Staying in: Letterkenny
Collect your hire car in the morning and head out on your adventure around Ireland. The most direct route from Dublin to Letterkenny is via the N2 which takes you through Northern Ireland, so you may need pounds sterling if you plan to park in one of the towns or for purchases (unless you are using credit cards).
You will know that you have entered Northern Ireland by the road signs, which change from kilometres per hour to miles per hour. There is no official border crossing between the Republic of Ireland and Northern Ireland, but if you require a visa for either Ireland or the UK you must carry your passport with you with the appropriate visa when crossing. Otherwise, take the longer alternate route via the N4 that avoids Northern Ireland all together.
Letterkenny is a good choice for an overnight stay as it has a range of accommodation and dining options and places you in a good position for an enjoyable coastal drive around Donegal County the following day.
Budget
Moderate
Luxury

Tips
If you are taking the route via Northern Ireland, check that your car hire covers you for travel there. The bigger companies usually do (as they also operate in Northern Ireland), but a few of the smaller Irish companies don't, so read the small print.
Day 4: Donegal to Sligo
Approximate driving time: 3hr + depending on detours
Staying in: Sligo
Donegal is often overlooked on itineraries because it is quite a bit out of the way. Many tourists even mistake it for being part of Northern Ireland. However, it would be a shame to miss out on visiting Donegal County because you will love its natural beauty that combines breathtaking landscapes and coastline.
Consider starting your day with a visit to Glenveagh National Park and Castle before the crowds get there. Then, drive in a loop around the coastline towards Donegal town, stopping at any points of interest and villages along the way.
After spending the day exploring Donegal County, drive on to Sligo in the evening. Enjoy an evening stroll and dinner in Sligo.
Optional Activities
Glenveagh National Park and Castle There is a bus to the castle that regularly leaves from the Visitor Centre. But if you can manage it, there is a very enjoyable 3.5km path to the Castle that is flat and well paved and lets you take in the views at your own pace. It takes about 40min and if you prefer, you can do it one way and get the bus back the other way. To explore inside the Castle, you will need to pay to join a tour, but you can enjoy the gardens and surrounds without paying admission. There is also a nice café at the Castle for refreshments. To find out more, read my post that provides a detailed guide for visiting Glenveagh National Park.
Doagh Famine Village  An insight in to the Irish way of life from the famine of the 1840's up until modern day. Admission fees apply, learn more at the Doagh Famine Village website.
Budget
Moderate
Luxury

Day 5: Sligo
Spend the day exploring Sligo Township and the beautiful lake and countryside surrounding it.
Optional Activities
Walking Sligo has many beautiful walks to choose from and there are options to suit all ages and fitness levels. Here are some favourites:

Bunbulban Mountain Provides a challenging but rewarding walk for serious hikers.
Dooney Rock Provides a pleasant short walk along the shores of Lough Gill and takes you to the low summit of Dooney Rock. You will be rewarded with beautiful views of the lake and its islands. Takes about half an hour.
Hazelwood Forest Park Offers both short and longer walking route options around the shores of Lough Gill. The paths are well maintained and suitable for all ages. Dotted along the way are wooden sculptures from Irish and international Artists. This walk is particularly beautiful in spring when the Bluebells are out and the trees have vibrant green spring growth. If you are not up for a walk then there is a scenic picnic area on the lake shore by the car park.
Knocknarea Although it's a steep walk to the top (about 40min), you are rewarded with the cairn of Queen Maeve of Connacht and stunning views (most suited on a clear day to enjoy the views). Longer walking tracks branch off from here.
Sruth In Aghaidh An Aird (The Devil's Chimney) A short walk leads you to a stunning waterfall. However, do note that the waterfall does not flow during dry weather conditions. If you can't see it on the cliff face from the car park, then it is not flowing.
Slish wood This walk begins at the northern end of the car park and follows the markers along the forest trail, providing picturesque views over Lough Gill. This delightful lakeshore and hillside track is way marked and easy to follow, taking about an hour.
Find out more about the walks available at the Sligo Walks website.

Lough Gill Take a drive around the freshwater Lough Gill and admire the stunning landscapes.
Parkes Castle On your way around Lough Gill, stop to visit Parkes Castle. Admission fees apply, visit Heritage ireland website for more details.
Lissadell House & Gardens Visit the majestic country estate Lissadell House, Gardens and Exhibitions. Yeats was a regular visitor of the Gore Booth sisters that lived here and there is a Yeats gallery exhibition at the house. Admission fees apply, visit the Lissadell House website for more information.
Day 6: Sligo to Connemara
Approximate driving time: 2hr 30min + depending on detours
Staying in: Clifden
Prepare for stunning scenery as you make your way from Sligo to Connemara. Spend your morning enjoying the rolling hills and mountains. Connemara is a Gaeltacht area, which means that the Irish language is the main language spoken. Take the time to try learning some basic Irish phrases so that you can interact with the locals.
Spend the evening in the quaint town of Clifden. Clifden is a real gem and the perfect base while visiting the Connemara region. It provides a range of accommodation options and has excellent restaurants, bars, café's and shops. On a practical side, there is also a supermarket and pharmacy.
Optional Activities
Kylemore Abbey Consider spending your afternoon at the magnificent Kylemore Abbey. Kylemore Abbey was originally built by Mitchell and Margaret Henry, but eventually became home to the nuns of the Benedictine Order who opened it as a boarding school for girls. This magnificent estate has an interesting history and it is well worth taking the time to learn more during your visit. Both of the café's located on the grounds of Kylemore Abbey provide an excellent lunch. Be sure to make the most of your visit by exploring not only the Abbey, but also the walled garden and the Gothic Church. To find out more, read my post that provides a detailed guide for visiting Kylemore Abbey.
Budget
Moderate
Luxury

Tips
Save money on Kylemore Abbey entrance fees by booking them through the Kylemore Abbey website. You don't need to print your tickets, just show them your e-ticket on your phone.
Day 7: Connemara
Spend the day exploring the unspoiled natural beauty of the Connemara Region.
Optional Activities
Sky Road The Sky Road is a must for breathtaking scenery. The circular route is out west of Clifden, about 11km long and well signposted. The upper part of the Sky Road offers amazing views and is consequently a popular spot to pull over and take photos. A car park is provided at the highest point. Along the coastline you will get views of the islands Inishturk and Turbot, Old D'Arcy Castle and the towering Twelve Bens jutting into the skyline behind Clifden.
Connemara National Park The Park provides visitors scenic mountains, expanses of bogs, heaths, grasslands and woodlands. The Connemara National Park Visitor Centre has a good exhibition about the Connemara area. There is also a playground, picnic area and four walking trails around the Diamond Hill of varying lengths. The staff at the Visitor Centre are very helpful and provide maps and information about the different walking routes and the fitness level required for each one. If you're fit enough to manage it, the walk to the top of Diamond Hill is definitely worth it and you will be rewarded with amazing views.
Day 8: Connemara to the Aran Island, Inis Mór
Approximate driving time: 50min + 40min sailing time on the ferry
Staying in: The Aran Island, Inis Mór
Inis Mór (Inishmore) is the largest of the Aran Islands and is a popular place to visit. To get there, you need to take the Aran Island Ferry which departs from Ros a' Mhíl (Rossaveal). It is recommended that you book your ferry ticket in advance. Overnight car parking is available at the Ferry Car Park which is on the T-junction just before the pier. Although this is not an area with a high crime rate, you still need to ensure that you take your valuables with you or at least secure them out of sight.
The ferry docks in Inis Mór's main town, Kilronan. It has several pubs, a small grocery store and some gift stores. It is also home to the famous Aran Island Sweater Market.
There are three Aran Islands – Inis Mór (Big Island), Inis Meáin (Middle Island) and Inis Oírr (East Island). These Islands are important elements of Celtic culture for their geological formation, historical monuments and their linguistic and cultural heritage. You will notice that Irish is the main spoken language in this Gaeltacht area of Ireland which really adds to your Irish travelling experience. Take the time to try learning some basic Irish phrases so that you can interact with the locals.
To get the true Arran Island experience, stay the night on Inis Mór. It has a good range of accommodation options from B&B's, hotels and hostels. The Island is peaceful at night, as most tourists leave on the afternoon ferry and there is very little traffic. Spend the evening at the local pub and take the opportunity to meet the locals and enjoy some Irish music and great craic.
Optional Activities
There is so much to see and do on Inis Mór that it will easily fill your day. If you're up to it, consider hiring a bicycle to make your way around the Island and its sites. There are several bike rentals around the pier to choose from. Otherwise, consider getting a tour of the Island via the available minivans or traditional pony and traps.
Dún Aonghasa (Dun Aengus) Dún Aonghasa is a semi circular stone fort. The 14 acre fort consists of three terraced walls surrounding an inner enclosure containing a platform on the edge of a 90m high sea cliff which provides you with dramatic views. Some scholars suggest that this platform may have had ritual significance. Excavations carried out indicate that people had been living here from c.1500BC, with the first walls and dwelling houses being erected c.1100BC. Leave your bike at the bike racks provided outside the Visitor Centre and pay for your admission before heading up to the fort by foot. The path is an uphill walk of about 900m which takes about 20-30min.
Na Seacht d'Teampaill (The Seven Churches) Despite its name, the site comprises of only two churches, Teampall Bhreacáin (St Brecan's Church) and Teampall an Phoill (the Church of the Hollow), and several domestic buildings. Located at the village of Eoghanacht, the Seven Churches was for centuries one of the biggest monastic foundations and centres of pilgrimage along the west coast of Ireland.
Dún Dúchathair (The Black Fort) Situated on the cliffs at Cill Éinne (Killeany), this fort is more peaceful to visit as it gets much fewer visitors than Dún Aonghasa. The fort consists of a terraced wall surrounding the remains of some early dwelling houses known as Clocháns (stone houses). The name, Black Fort, comes from the dark coloured limestone which is characteristic of this particular area of the island.
Kilmurvey Blue Flag Beach If you are lucky to visit Inis Mór on a sunny day, Kilmurvey Beach just off the road between Kilronan and Dun Aengus, is the perfect place to stop and rest, especially if you are cycling around the Island. It may not be warm enough to completely jump in (although many do), you will enjoy cooling your feet off in the refreshing blue water and relaxing on the beautiful white sandy beach.
Budget
There is a limited range of accommodation on the Island. None of it is particularly budget friendly, but this is the list of some of the cheapest accommodation on the Island.
Moderate
Luxury

There is good quality accommodation on
Inis Mór, however, it is limited and I wouldn't classify any as 'luxury'.
Tips
If you are staying in the summer months, then you will need to book in advance as the Island becomes a popular place to visit.
If you don't want to stay overnight in Inis Mór, then you can also base yourself in Galway or at a nearby town.
If you don't want to park your car at the ferry terminal, then the Aran Island Ferry also operates a shuttle bus service that departs from Galway and makes pick-ups along the way.
To learn more about visiting the Aran Islands, read my Complete Guide to Exploring the Aran Islands.
Day 9: Ines Mór to The Cliffs of Moher, Adare and Dingle
Approximate driving time: 5hr 30min + depending on detours
Staying in: Dingle
The Cliffs of Moher
Catch the morning ferry departing Inis Mór then drive down the coastline to the Cliffs of Moher. Although it is free to visit the cliffs, they do charge for parking.
There are three viewing platforms from which to admire the cliffs and ocean. The cliffs are also home to a number of seabirds, so if you enjoy bird watching this is the place for you. In the Visitor Centre there is an exhibition providing information about the cliffs and two cafés, the upstairs one has lovely views.
Optional Activities
Walking If you are keen for a hiker, there are a number of longer coastal walks that depart from the Cliffs of Moher Visitor Centre:

Hags Head 5km, 1.5hr-2hr
Moher Sports Field 6km, 2hr
Liscannor village 12km, 3.5hr
Doolin 8km, 2.5hr-3hr
Refer to this Cliffs of Moher coastal walking map for more details. Remember that these are only one-way distances and walking times. Don't forget to double them for a return walk.
Adare
On your way to Dingle, take the time to stop off at the Heritage Town of Adare. Adare's streets are lined with picturesque thatched cottages making it one of the prettiest villages in Ireland.
Optional Activities
Adare Castle A Medieval fortified castle. Visitor access to the castle is through the Adare Heritage Centre in Adare Village.
Dingle
As you drive to Dingle in the afternoon, take the picturesque road R560. You will be rewarded with stunning views as you enter Dingle. However, be careful as the road is windy and in some areas it narrows to one lane, but there are plenty of parking areas to pull over and admire the views.
Enjoy the evening in Dingle and visit its many shops, restaurants and bars. Admire the brightly painted houses and scenic views from the harbour.
Optional Activities
Dingle Dolphin tour Take a boat tour around the harbour for a chance to see Fungie the local Dingle dolphin.
BudgetModerateLuxury

Day 10: Dingle Peninsula to the Ring of Kerry and Killarney National Park
Approximate driving time: 5hr 30min + depending on detours
Staying in: Killarney
Dingle Peninsula
In the morning, drive the scenic loop around the Dingle Peninsula on the R559. The Peninsula is home to the mountain range of Slieve Mish, Ireland second highest peak Mount Brandon, as well as various cliffs and beaches. Along this circular drive you will also see Inis Tuaisceart (Inishtooskert), the northernmost Blasket Island. From a distance the Island resembles a sleeping giant, hence it's also known as An Fear Marbh (the dead man) or the sleeping giant.
Optional Activities
There are a number of archaeologically significant sites to see on the Dingle Peninsula. The structures have been built using the traditional technique of dry stone masonry. Stones are stacked to create the structure and no mortar is used to hold them together. Admission fees are required to visit these sites:
Fahan Beehive Huts Also known as Caher Conor, these stone huts are shaped like beehives.
Gallarus Oratory This early Christian church is over a thousand years old, but perfectly preserved.
Dún Beag Fort A stone promontory (sea facing) hill fort built as a defensive structure.
The Ring of Kerry
After enjoying the Dingle peninsula, drive along R561 which joins the N70 which is the Ring of Kerry road. The Ring of Kerry is Ireland's most popular scenic routes because at every turn you are met with breathtaking coastal scenery. Take your time driving it, there are plenty of places to pull over and take it all in.
Optional Activities
The Kerry Bog Village A fascinating insight into how people lived and worked in Ireland in the 18th Century. Admission fees apply, see the Kerry Bog Village website for more information.
Killarney National Park
In the afternoon as you head towards Killarney, you will get the chance to experience another kind of natural beauty, the stunning Killarney National Park. The N71 will lead you through this spectacular Park. Be sure to stop for photos at Ladies View along the way. If you walk up the road from the viewing point there is another parking area and a path that leads to a wonderful view of the upper lake.
In the evening, enjoy a stroll around the Killarney National Park. There are a number of National Park tracks that start in the town itself. If you are not up to walking, then consider paying for a ride in one of the many available horse drawn jaunting cars.
Optional Activities
Torc Waterfall A short walk from the car park through the woods will lead you to this stunning 20m high waterfall. If you are feeling energetic, you can walk up to the top viewing point.
Dinis Cottage Located on Dinis Island, the cottage can be accessed via a pleasant walk along the lake from the car park on the N71. Boat trips operate to the Cottage from Muckross Boathouse which is near Muckross House.
Knockreer and Killarney House Both of these sites are within walking distance of Killarney town.

Knockreer House is the Killarney National Park Education Centre and is built on the site of the original Killarney House which was destroyed by fire in 1913. The signposted circular walk offers excellent views of the Lower Lake, Tomies Mountain, and in the distance the mountain range MacGillycuddy's Reeks. There is pathway off to the right that leads up to the viewing point on top of the hill which provides a wonderful panorama of the surrounding countryside.
Killarney House and adjoining gardens can be accessed through the Golden Gates on the N71 or from the Knokcreer area. Killarney House is closed to the public. There is an information centre at the Gate Lodge just inside the Golden Gates which is open during the summer months.
BudgetModerateLuxury

Day 11: Killarney
Spend the day exploring the many attractions in and around Killarney.
Optional Activities
Ross Castle Built in about the 15th Century, this castle is set upon a very scenic lake and garden. It's free to roam around the outside, but you need to pay for a guided tour to see the inside of the Castle.
Muckross House and Gardens Muckross House is a stunning Victorian house. To see inside the house you will need to pay for a guided tour, but the beautiful gardens are free to roam. Those who visit during the months of April through July can enjoy the vibrant red and pink of the Rhododendrons. Treat yourself to lunch in their garden restaurant. The grounds also link up to a number of walking tracks that lead you through the Killarney National Park. If you are not up to walking, then consider paying for a ride in one of the many available horse drawn jaunting cars.
Muckross Traditional Farms Located beside Muckross House, they portray a working recreation of traditional farming methods and the day to day habits of a rural community in 1930's Ireland. Admission fees apply.
Learn more about Muckross House and Gardens and Traditional Farms on their website.
Muckross Abbey This Franciscan friary of Irrelagh, was founded for the Observatine Franciscans in about 1448. It can be accessed via the car park on the N71.
Cycling If you prefer to enjoy the scenery by bike, then there are a number of bike rentals in and around Killarney.
Day 12: Killarney to Cork to Kilkenny
Approximate driving time: 3hr + depending on detours
Staying in: Kilkenny
Cork
Spend your morning exploring all that Cork has to offer. Being a small city, it is easy to see all of the city based sites by foot.
Optional Activities
Blarney Castle Visit the Blarney Castle and extensive gardens, famous for the Blarney stone – the legendary Stone of Eloquence. Kiss it and you will never be lost for words again. Admission fees apply, learn more at the Blarney Castle website.
The English Market Established in 1788, this food market is a popular place for locals and visitors to buy their fresh vegetables, meat, fish, cheese and much more. There is also an upstairs café.
University College Take a stroll around the campus grounds and enjoy the stunning architecture.
Cork Public Museum and Fitzgerald Park Situated on the River Lee, the park is a peaceful spot for a stroll and a picnic. The Cork Public Museum is located in the park and although small, has some interesting exhibits and is free to visit.
St Fin Barre's Cathedral This stunning Protestant Cathedral is famous for its ceiling murals, stained glass windows, 14m high Bishop's throne and church organ which consists of 3012 pipes. Admission fees apply.
Crawford Municipal Art gallery Their permanent collection includes paintings by Irish and international artists from the 17th century to the present day. The gallery is free to visit.
Cork City Gaol This former prison gives you an insight into the terrible harshness of the 19th Century penal system. Admission fees apply, learn more at the Cork City Gaol website.
Fota Wildlife Park 15km out of Cork city, this wildlife park is home to a host of animals and provides an enjoyable day out for all ages. Admission fees apply, learn more at the Fota Wildlife Park website.
Tips
Save money on Blarney Castle entrance fees by booking them on the Blarney Castle website. You don't need to print your tickets, just show them your e-ticket on your phone.
Kilkenny
Spend the afternoon and evening exploring Ireland's medieval capital Kilkenny, complete with Castle and winding narrow streets. Kilkenny is a small city so is easy to find your way around.
Optional Activities
Kilkenny Castle Located in the heart of the city, enjoy a stroll in the Castle's expansive grounds. Admission fees apply to enter the Castle, learn more at the Kilkenny Castle website.
Kilkenny Design Centre Located just across from the Kilkenny Castle, the Design Centre buildings were originally used as castle stables but are now design workshops. Inside, products from the workshop are sold alongside Irish souvenirs. There is also a nice food hall and restaurant. Make sure you walk through to the back to view Butler House and its gardens.
Rothe House and Garden An example of an early 17th century merchant's townhouse in Ireland, you will also discover a historic garden and museum. Admission fees apply, learn more at the Rothe House website.
Budget
Moderate
Luxury

Day 13: Kilkenny to Wicklow
Approximate driving time: 2hrs + depending on detours
Staying in: Wicklow Mountains, coastline or Glendalough Valley area.
Today your Irish travels take you through County Wicklow, popular for its spectacular scenery, rich history, archaeology and abundant wildlife. The Glendalough Valley is located in the Wicklow Mountains National Park and has many attractions, from its Monastic Site to its scenic lakes and valleys, as well as a selection of walks and trails.
Optional Activities
Avoca Avoca is a small village in County Wicklow. It's famous for being the filming location of the TV series Ballykissangel and also the Avoca Handweavers, Ireland's oldest weaving mill. The mill was founded by three sisters in 1723 and is known for its colourful designs and quality woollen products. It has since been expanded to include a chain of shops dotted around Ireland that also sell quality food products, clothing and other unique products as well having onsite café's. Free tours are available at the Avoca Mill and there is also a very colourful and enjoyable display on the history of the mill and its products.
Glendalough Glendalough is home to an important 6th century Christian Monastic settlement. The monastic remains, include an impressive 30m high Round Tower, Priest's House, a 12th Century building in Romanesque style, a large granite cross and Cathedral and St Kevin's Church. Many other archaeological features, like tombs and cairns can be found in the Park. The Visitor Centre provides an exhibition and provides guided tours of the Monastic City. The Information Centre by the Upper Lake can provide you detailed information about the many wonderful walking trails around the Park.
BudgetModerateLuxury

Day 14: Wicklow to Dublin
Approximate driving time: 1hr 30min + depending on detours and city traffic (which is always terrible in Dublin!)
Make your way back to Dublin enjoying some last minute sightseeing along the way.
Optional Activities
Powerscourt House and Gardens, Enniskerry A morning at Powerscourt House and Gardens is a wonderful way to end your holiday in Ireland. You can purchase your admission ticket to the gardens at the front gate as you drive in or at the entrance to the gardens which is in through the Powerscourt House.
The gardens are extensive and diverse, including Italian and Japanese gardens, rose gardens and a touching pet cemetery where the family pets were laid to rest, all with the stunning Wicklow Mountains as a backdrop. There is also a waterfall 6km from the estate, but you will need to pay additional admission fees to visit it, learn more about the fees at the Powerscourt website.
After exploring the gardens, take the time to enjoy the café or restaurant and also explore the house. Unfortunately soon after it was refurbished in 1974 it burnt down. Part of it has been refurbished which they use for events. There is an interesting exhibition on the history of the property which is worth seeing.
RelocatingtoIreland.com is a participant in the Amazon EU, Amazon Services LLC Associates and Programme, Amazon Canada, and Booking.com affiliate advertising programs designed to provide a means for sites to earn advertising fees by advertising and linking to Amazon.co.uk, amazon.com, amazon.ca and booking.com.

 

Regardless, I only recommend products or services that I personally believe will add value to my readers.