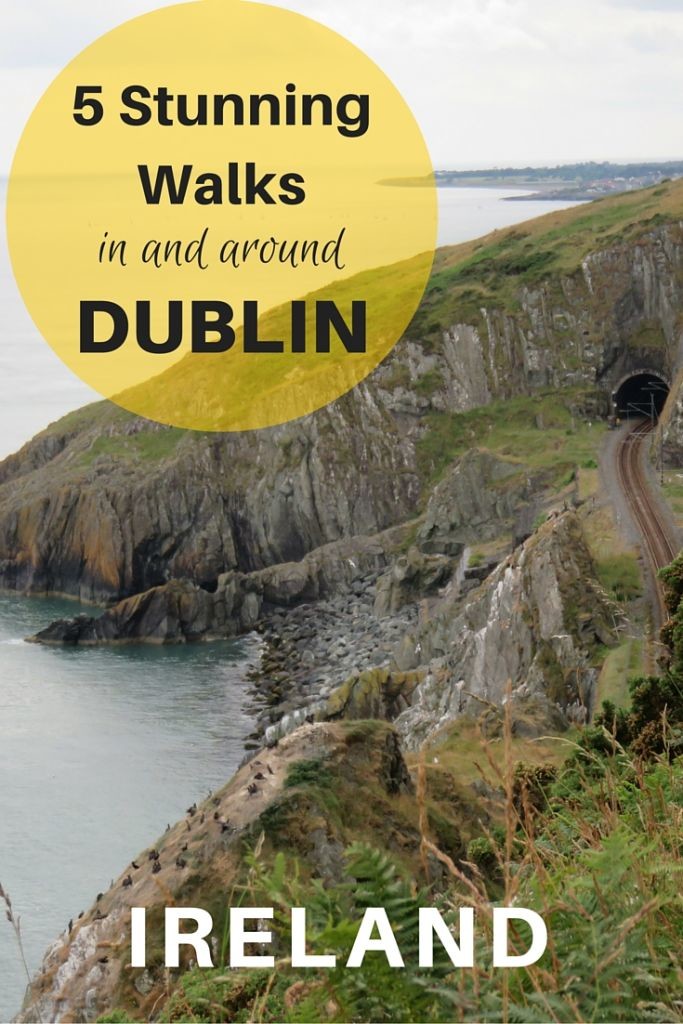 There is an excellent range of walks available in and around Dublin and these are my top 5 favourite walks which also include family friendly trails. Whether you live in Dublin or your holidaying there, take the time to enjoy these stunning walks to really appreciate Ireland's natural beauty. And for those of you without a car, these walks can easily be reached by public transport.
1. Phoenix Park
Difficulty: Easy
Length: Flexible
Duration: Flexible
Phoenix Park is located only 2km from Dublin city centre making it very easy to get to by bus, the Luas tram, and car (parking is available throughout the park). This is no ordinary city park, its perimeter is a huge 11km and you can easily spend several hours walking around enjoying it. The parks 707 hectares (1,750 acres) encompass large areas of grassland, woodland, tree lined avenues and formal gardens. It also includes a range of sports fields where, depending on the season, you can often watch a game of cricket, Gaelic football, Hurling and many other sports. There's even a Polo field. One of Phoenix Park's best features are the herd of wild Fellow deer that roam the park and the beautiful views of the surrounding hills. As you walk around Phoenix Park, you will find it hard to believe that you are so close to the city.
The park sights also include:
Aras an Uachtaráin – the Irish President's house. There are free tours on Saturdays.
Deerfield Residence – Originally built as the Park Bailiff's lodge in 1776, it later became the residence of the Chief Secretary for Ireland. Since February 1927 its been the official residence of the United States Ambassador to Ireland.
The Papel Cross – The Papal Cross is a simple large white cross that was erected for the Papal visit of Pope John Paul II in 1979.
The Magazine Fort – This fort marks the location where Phoenix Lodge was built by Sir Edward Fisher in 1611. In 1734 the house was knocked when the Duke of Dorset directed that a powder magazine be provided for Dublin. An additional wing was added to the fort in 1801 for troops.
The Wellington Testimonial – The tallest obelisk in Europe at just over 62 meters tall, it was created as a testimonial to Arthur Wellesley, Duke of Wellington (reputed to have been born in Dublin). Completed in 1861, it features four bronze plaques cast from cannons captured at Waterloo.
Admission to this park is free. There's also a café at the main entrance and a larger one at the Visitor Information Centre located in the heart of the park.
2. Marlay Park
Difficulty: Easy
Length: Flexible
Duration: Flexible
Located 5.5km from Dublin city in the suburb of Rathfarnham. it can easily be reached by bus or car (parking is available at the park). The park is a huge 121 hectares (300 acres) and comprises of woodlands, ponds and gardens. There are also sports grounds and a golf course.
This is a great park to take kids for a walk because it also features a fairy tree. The fairies have created a series of impressive towers that also feature doorways, windows, rope bridges and stairways. Even adults will be enchanted by this magical place.
Marlay Park is the official starting point of the Wicklow Way, a 132km long-distance walking trail that begins at the car park adjacent to the impressive Marlay House. Daily tours of the Marlay house gardens are available in the summer months and by appointment at other times. Tea, coffee and other refreshments are available year round in the former gardener's house. A number of small craft workshops are also located in the courtyard adjacent to Marlay House which include weaving, glass cutting, bookbinding, furniture restoration, copper craft, pottery, jewellery and embroidery. A regular market is also held here on Saturdays from 10am-4pm and Sundays from 11am-4pm.
3. Fairy Castle Loop – Ticknock Forest
Length: 5.5km
Time: 90-120 minutes
Degree of difficulty: Moderate
Trail way marking: Green 
The easiest way to get to Ticknock Forest is by car. Head for Marlay Park via Rathfarnham. As you pass the main entrance to the Park on your right, turn right at Ballinteer St. Johns Clubhouse. Follow the road around the edge of the Park, and then turn left at the Taylor's Grange junction onto the R113. Take the second turn on the right and this will bring you to the entrance to Ticknock forest. There are free car park facilities available.
If you don't have access to a car, you can get still get there with a little extra effort. Take the bus to Marley Park and then walk up to Ticknock Forest from there. If you are reasonably fit, this extra walk is easily achievable, but be careful on the roads as they are narrow and can be quite busy with traffic.

The starting point for the Fairy Castle Loop is from the Ticknock Forest car park. The Fairy Castle loop is a lovely looped walk taking in the wonderful views over Dublin from Three Rock Mountain and Fairy Castle, traversing sections of the Dublin Mountains Way and Wicklow Way, before returning via the old rifle range to the car park. Heather covers the mountainside and looks absolutely stunning when in flower.
My favourite thing about the Fairy Castle Loop walk is the diverse landscape. Face the coast and you are rewarded with panoramic views of the magnificent coastline and Dublin city. But turn around and you are presented with stunning Irish country side, complete with rolling hills and beautiful wildflowers. It makes you believe that you're far from civilisation.
It is rather exposed on this track so I recommend that you bring a waterproof and windproof jacket. Flat trail shoes with good grip should suffice.
4. Howth Coastal Path
Entire Howth Coastal Path Circuit: 
You can also choose to walk smaller parts of this circuit track.
Difficulty: Moderate
Length: 10.3 miles / 16.5 km
Duration: Half day
Howth is a beautiful coastal fishing village in the outer suburbs of Dublin. It is easily accessible by bus, DART train, and car (parking can be limited in the weekends). The Howth Coastal Path takes you on a stunning walk around the peninsula, Howth Head. Wildlife enthusiasts will adore this area which boasts guillemots, razorbills, fulmars, gulls and gannets just to name a few.
To get to the cliff trail, walk eastwards from the train station towards the harbour. Continue past the west pier, yacht club, and east pier (enjoy a short diversion along the east pier promenade to the lighthouse). Continue up the coastal road to where the cliff walk begins at Puck's Rock. The path will lead you across a beautiful rugged coastline featuring heather, gorse, wildflowers and sea birds which nest in the rock crevices.
The cliff path is rather exposed in certain sections and so is not recommended during stormy weather. Given the changeable nature of Irish weather, I would recommend that you bring a waterproof and windproof jacket. The terrain varies from paved paths to rough tracks, with the southern section of the cliff path particularly uneven. Flat trail shoes with good grip should suffice.
5. Bray to Greystones
Difficulty: Moderate
Length: 4.4 miles / 7 km
Duration: 2.5hrs
The Bray to Greystones trail is a popular attraction and is only a short train ride on the DART from Dublin city. Both Bray and Greystones are lovely seaside towns and have a range of cafe's to choose from. You can walk this trail starting at either end, but be aware that more trains depart from Bray station than Greystones. Also, if the sun is out it can be rather blinding when walking south from Bray towards Greystones, but this is not usually much of a problem in Ireland!
This trail runs along the cliff from Bray to Greystones and provides stunning views of the east coast. The trail was developed in the 1840's to provide access for materials and workers to the cliff face during the construction of the railway line.
The Cliff Walk is home to numerous types of seabirds and various types of colourful wildflowers that add to the natural beauty of the walk. You might also be lucky enough to spot dolphins, black harbour porpoises and basking sharks swimming in the waters around the Cliff. The walk takes about 2 hours to complete and is suitable for all abilities. Flat trail shoes with good grip should suffice.
Accommodation Options in Dublin
Click here to search all available accommodation in Dublin.
BudgetModerateLuxury

RelocatingtoIreland.com is a participant in the Amazon EU, Amazon Services LLC Associates and Programme, Amazon Canada, and Booking.com affiliate advertising programs designed to provide a means for sites to earn advertising fees by advertising and linking to Amazon.co.uk, amazon.com, amazon.ca and booking.com.

 

Regardless, I only recommend products or services that I personally believe will add value to my readers.