Trying to buy the perfect gift for a wife, girlfriend, sister, daughter or friend? Tired of getting her the same boring and predictable gift of perfume and flowers? Make your next gift stand out from the crowd and get her something original that was created and made in Ireland by skilled Irish craftsmen and designers.
The Claddagh ring is a traditional ring which represents love, loyalty and friendship. Love is symbolised by the heart, loyalty is symbolised by the crown and friendship is symbolised by the clasped hands.
When worn on the right hand with the tip of the heart pointed towards you it means that you are in a relationship. If it's pointed outwards, then it means that you are single and available. When worn on the left hand with the tip of the heart pointed towards you, it means that you are married. If it's pointed outwards, it means that you are engaged.
This beautiful Claddagh ring is made in Ireland and stamped at Dublin Castle. This Claddagh ring is available in stainless steel, sterling silver, 14K white gold, and 10K yellow gold.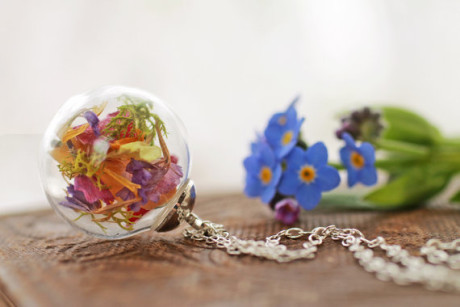 This gorgeous little necklace was made by filling a dainty glass orb with a mix of colourful Irish wildflowers. The flowers inside can include; marigolds, cornflowers, daisies, cosmos, clover, moss, rose petals, babies breath and forgetmenots. The petals have been carefully preserved to retain their colour, and sealed with a UV resistor. This would make a lovely gift for the woman who loves nature and flowers. It comes packed in tissue inside a hand stamped gift box tied with ribbon. A pretty information card is also included which tells the story of the piece and how to care for it.
This elegant sterling silver pendant necklace comes on an 18″ chain and features a Celtic Tree of Life with a small green gem in the centre. The Tree of Life's branches reach in search of learning & knowledge. The trunk symbolizes strength, it's flowers & fruit renewed growth and it's roots represent Ancient Celtic Heritage. This gorgeous necklace is made in Ireland and presented in gift box. Matching earrings can also be purchased.
This beautiful charm bracelet was made in Ireland. The bracelet features a shamrock, trinity knot, claddagh and celtic cross. The trinity knot was an important part of the Ancient Celtic culture because there were many things that came in threes, for example, the three stages of womanhood (maid, mother, crone) and the three elements (earth, fire, water). The shamrock was revered by the Celts because of the trinity of its leaves. Early Christians used the Celts understanding of the trinity to explain the concept of the Holy Trinity (Father, Son, Holy Spirit). The trinity knot is associated with eternity and eternal love and the Claddagh stands for Love Loyalty and Friendship.
This stylish soft cashmere blend throw is perfect for her to snuggle into to keep warm while she's relaxing out on the couch watching her favourite TV shows or movies and as an extra warm layer at night. These beautiful woollen throws are made by Avoca Handweavers, Ireland's oldest weaving mill. The mill is located in Avoca village and was founded by three sisters in 1723 and is known for its colourful designs and quality woollen products. This stunning Avoca blanket will add a stylish flair to her home.
Keep her warm and stylish this winter in this beautiful merino wool snood. This gorgeous wool scarf is elegantly weaved with a diamond stitch, a traditional design among Irish fishermen. It has five brown wooden buttons to close and add to the design. 
Buy her a piece of Ireland with this beautifully handcrafted Ladies 100% Irish Merino Wool Cable Crew Sweater with Pockets by West End Knitwear. This stylish aran sweater is made using traditional Irish Aran stitching throughout and has 2 pockets to the front. This Aran Sweater is made from 100% soft Irish Merino wool which makes it an ideal warm and cozy sweater for cold weather, the perfect addition to any wardrobe. Available in a selection of colors and sizes. 
Handcrafted by Irish knitwear producer Carraig Donn this beautiful 100% Irish merino wool Aran sweater is available in a range of sizes and colours. It features a draped collar with one button fastening which will keep her warm and cosy all winter through.
This beautiful cape is made by John Hanly & Co. in Tipperary at Ballyartella Woollen Mills. This stylish cape is made of 100% Irish Lambswool and will provide her with an extra layer of warmth during the cooler months. This cape will create the perfect outfit when worn over a dress or with jeans and boots.
This yoga mat bag has been handmade using pretty embroidered floral fabric set onto a gorgeous turquoise blue background. Choose from a range of gorgeous prints. The bag is a large size and can also accommodate all yoga mats. This yoga mat bag is perfect for the yoga enthusiast.
Quality chocolates are always a well received gift. These exquisite Irish made chocolate truffles and pralines are beautifully presented in a gift box. Butlers Chocolates is Ireland's favourite luxury chocolatier. They use high quality ingredients to get absolutely irresistible flavours.
Does your lady love all things Christmas? Then buy her this beautiful Waterford Irish Shamrock Clover Crystal Christmas Ornament to adorn her Christmas tree each year. These ornaments will become treasured possessions to be handed down to the next generation. 
This elegant picture frame is made of premium quality, diamond cut Irish Waterford crystal. It features an exquisite leaf and star pattern to beautifully display her most memorable and treasured photos.
This gorgeous bag was designed by the iconic Irish contemporary designer Orla Keily, known for her retro prints and designs. Her designs have earned her a loyal following of celebrities such as Alexa Chung, Scarlett Johansson and Keira Knightley. This vibrant fabric bag is available in red or blue.
Add a bit of Orla Kiely designer flair to her phone by getting her one of these gorgeous phone cases. There are lots of designs and colours to choose from and there are also cases for Apple iPod's and iPad's.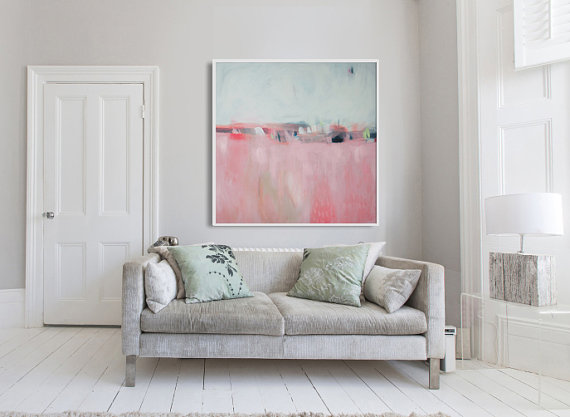 These stunning artworks are painted by Irish artist Lola Donoghue. This talented artist is based in Galway, Ireland. Her artwork has been featured in top publications including Elle Decoration, Vogue and Glow magazine. Both originals and limited edition prints are available to purchase. The prints are printed in a range of sizes on either cotton rag paper or canvas and will look perfect in any room of her home.
This design, by the Irish Artist Kathleen Smyth, is based on the writings of Teilhard de Chardin who was a priest, scientist and prophet. Created in Cork, Ireland, this plaque is finished in Bronze. Since Ancient times bronze has been a highly prized metal for the making of tools, jewellery and statues. Left to weather, it will acquire a green patina; polished it will shine like gold.
"By the love of man and woman, a thread I have woven that stretches to the heart of the world."
Does she like to cook? Then get her this new edition of Darina Allen's bestselling Irish Traditional Cooking. It contains 300 traditional dishes, including 100 new recipes such as Sea Spinach Soup, Potted Ballycotton Shrimps with Melba Toast and Rhubarb Fool. Each recipe is accompanied with tips, tales, historical insights and common Irish customs, many of which have been passed down from one generation to the next.
Irish Pottery ($28.29 – $79.50)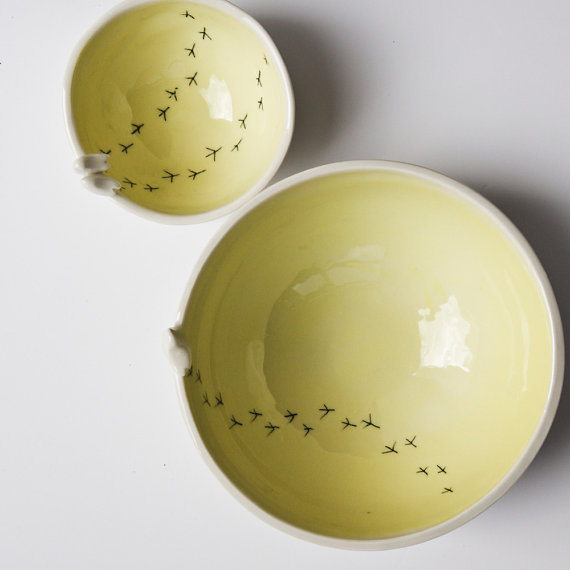 These Tweet bowls are from the artist Karo Art whose studio is based in Dublin, Ireland. The bowls come in two sizes and feature little ceramic birds perched on the edge of the bowl and bird foot print markings inside the bowl. They come in a range of soft pastel shades pistachio, lilac, yellow and coral. As well as bowls, cups, plates and platters, the range also includes ceramic wall art, plant pots and Christmas tree ornaments.
If she prefers more classic designs, then buy her one of these beautiful pottery pieces by Paul Maloney whose pottery studio is based in Wexford, Ireland. This bowl is from the Ocean Range and the colours reflect the influence of the oceans that surround Ireland. A range of pieces are available in this collection including a serving platter, wine cooler and serving bowl.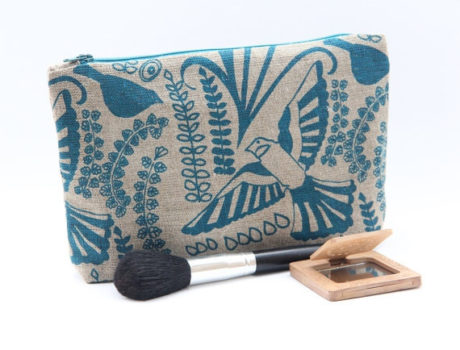 This beautiful toiletry bag is handmade using a heavy, durable cotton canvas. The print is created and screen printed by Irish designer Jane Hayden who was inspired by 19th century botanical drawings. These bags are available in blue, green, pink and yellow prints and are perfect for her to use as a make-up bag.
This perfume is perfect for the woman who is tired of wearing the mainstream, run of the mill department store perfumes. This perfume is created by Fragrances of Ireland, a boutique perfumery based in Wicklow, Ireland. Caru is an ancient Irish word meaning 'to love'. It has been specially chosen for this rich and heartwarming fragrance as it evokes passion and joy. Caru captures the last days of summer; rich aromas of harvests and the last blooms of summer scenting the breeze. Caru is a blend of summer and autumnal fruits, crisp green top notes warmed with rich florals of iris and freesia, a heart of red berries resting on bittersweet amber, vanilla and fragrant woods create this warm and wonderful feminine fragrance.
Spoil her with these 100% natural luxurious handmade soaps. Made in Galway, Ireland, the range is made using a combination of olive oil, coconut oil, sustainable palm oil, castor oil and shea butter to create our base recipe. To this they add sweet almond oil for a touch of luxury. Scented with high-quality essential oils and infused with natural clay and plant-based colorants, each unique soap will bring a little piece of Galway to you.
This four-soap gift box contains the following soaps:
Sweet Connemara Heather – Lavender, rosemary and lemongrass essential oils are carefully blended to create the aroma in our 'Sweet Connemara Heather' soap. Coloured with natural pink clay and sprinkled with dried heather buds.
Barna Woods – Naturally coloured with French green clay and cocoa powder and scented using a blend of pine and cedarwood essential oils to create the fragrant, woodland aroma. Dried rosemary is also added to enhance the scent and for exfoliating benefits.
Spiddal Seaweed – a fresh and invigorating soap bar infused with locally-sourced Connemara seaweed powder. With a blend of spearmint and eucalyptus essential oils, blue poppy seeds for added exfoliation and topped with Connemara dillisk, this soap not only looks beautiful, but smells and feels it too.
Galway Bay Breeze – Our 'Galway Bay Breeze' soap is infused with Atlantic sea salt, and scented with bergamot and ylang ylang essential oils to recreate the wild Atlantic sea air.
All our soaps come beautifully packaged in an environmentally friendly gift-box with an insert explaining the name of each soap and how it relates to Galway.
*Please note that prices are subject to change in accordance with exchange rates or at the Sellers discretion.
RelocatingtoIreland.com is a participant in the Etsy, Amazon EU and Amazon Services LLC Associates and Program, an affiliate advertising program designed to provide a means for sites to earn advertising fees by advertising and linking to etsy.com, Amazon.co.uk and amazon.com. Regardless, I only recommend products or services that I personally believe will add value to my readers.