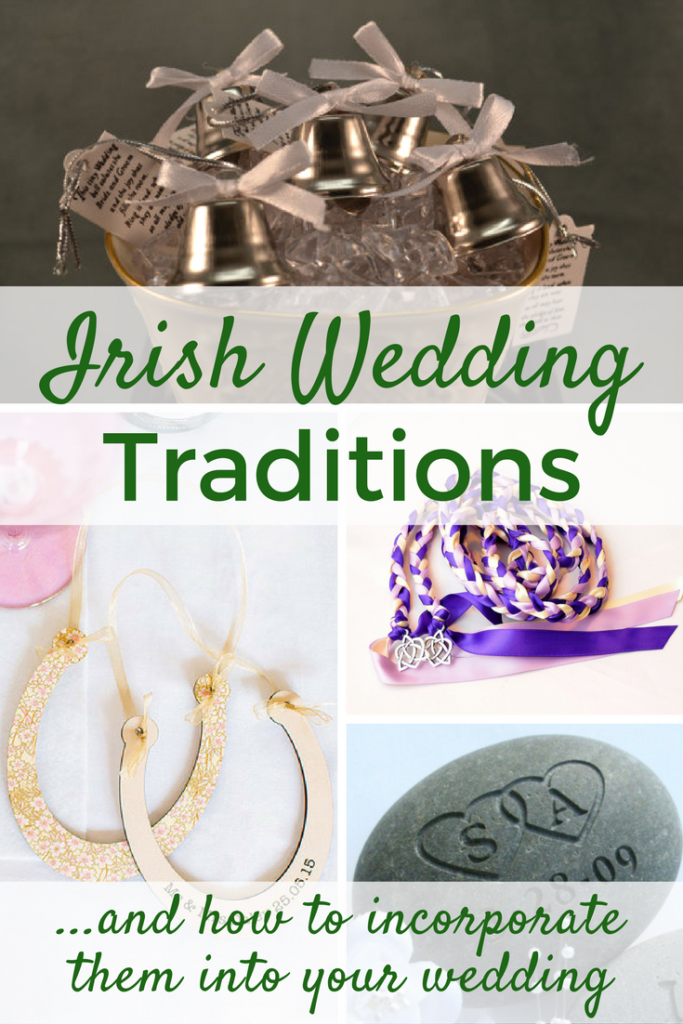 Irish wedding traditions date back to ancient times and many have survived to this day in one form or another. Now, couples around the world seek to incorporate these ancient Irish wedding traditions into their modern day wedding as a way of paying tribute or reconnecting with their Irish heritage.
This post highlights some of the Irish wedding traditions and provides ideas on how you can incorporate them into your wedding.
Choose Your Wedding Date Wisely
In ancient times, Irish couples were cautioned against marrying between May and August — the busiest time in Irish life. As the saying goes:
"Marry when the year is new, always loving, kind, and true.
When February birds do mate, you may wed, nor dread your fate.
If you wed when March winds blow, joy and sorrow both you'll know.
Marry in April when you can, joy for maiden and for man.
Marry in the month of May, you will surely rue the day.
Marry when June roses blow, over land and sea you'll go.
They who in July do wed, must labor always for their bread.
Whoever wed in August be, many a change are sure to see.
Marry in September's shine, your living will be rich and fine.
If in October you do marry, love will come but riches tarry.
If you wed in bleak November, only joy will come, remember.
When December's rain fall fast, marry and true love will last."


Previously in Ireland the most popular day to be married was a Sunday. This made sense as it was the day when the working week was done and people were free to attend the simple marriage ceremonies that were available at the time.
However, as the Catholic religion developed and reasserted itself in Ireland, the choice of Sunday became frowned upon as it was often seen as a mark of disrespect. Similarly, it became unusual for a couple to be wed in May as this was the traditional start of Summer and was marked by a Pagan feast Bealtane.
Modern Irish Wedding Ideas
In Ireland today most weddings take place on a Saturday (unless it is a civil ceremony which only occur on weekdays). Weddings on weekdays are not as common because of its inconvenience for guests. Weddings on a Sunday are rare, especially church weddings, as this is the day churches traditionally hold their services.
Irish Lace
Elegant laces were made in Ireland before the middle of the eighteenth century, and were used to decorate ceremonial outfits such as wedding dresses. Thought of as an early form of crochet, different parts of Ireland produced distinctive types of lace:
Carrickmacross lace from County Monaghan
Kenmare lace from County Kerry
Youghal lace from County Cork
Tambour lace from Limerick
Modern Irish Wedding Ideas
To this day, Irish lace is still a popular choice in modern wedding dresses. Incorporate this beautiful fabric into your gown or veil. I've put together a collection of stunning collection of Irish lace crochet wedding dresses to inspire you.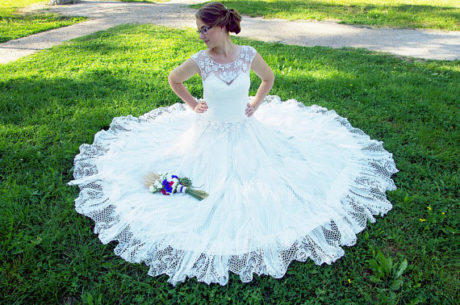 Blue Wedding Dress
The traditional Irish bride wore a blue wedding dress rather than white. This colour was a symbol of purity in ancient times before white became the universal symbol for virginity.
Modern Irish Wedding Ideas
For a traditional look, why not go for a stunning pale blue traditional Irish lace crochet wedding dress? Be inspired by this stunning collection of Irish lace crochet wedding dresses. These custom made Irish crochet wedding dresses can be made in blue.
The Wedding Flowers
Many traditional Irish brides wore a wreath of wildflowers in their hair rather than an elaborate veil, and carried bouquets of herbs and wildflowers to match. Lavender symbolizes love and devotion and herbs represent the bride's fidelity to her new husband. The shamrock has become a symbol of Ireland. Saint Patrick, Ireland's patron saint, is said to have used it as a metaphor for the Christian Holy Trinity. For a lucky marriage, brides tucked a sprig of shamrocks into the bouquet. 
Modern Irish Wedding Ideas
One of the most popular wedding flowers in Ireland is the Bells of Ireland, which now readily available. They make lovely kissing bells and also create a stunning bouquet, especially when used with white flowers such as peonies, roses, lilies and lisianthus.
Wearing a flower wreath instead of a veil is particularly on trend at the moment. Go with either a statement wreath with large bold flowers like roses and dahlias accented with greenery, or go for a more subtle look with a small wreath of sweet little wildflowers. Check out these floral wedding crown ideas. If you don't want a full crown, then just add a few of your favourite flowers into your hair. 
Braided Hair
Brides often wore their hair in braids with ribbon and lace woven through them. Braided hair is an ancient Irish symbol of feminine power and luck.
Modern Irish Wedding Ideas
There are loads of gorgeous hairstyles that incorporate a braid, find inspiration with these stunning Celtic Inspired Braided Wedding Hairstyles. If your hair is too short, then speak to your hair stylist about incorporating a hair piece to weave through your hair.
Irish Kilt
Although kilts are traditionally associated with Scotland, they are also part of Irish culture. The Irish national tartan was introduced as a symbol of Gaelic tradition during the rise of Irish nationalism and as a response to the ongoing anglicisation of Ireland. Irish tartans are designed to represent the districts and counties of Ireland. For example, if you originated from Cork, you would wear a kilt made with the Cork County Tartan.
The Sporran is the pocket attached to the front of a kilt, and this is a traditional accessory to Irish kilts. The kilt is also worn with the Kilkenny jacket which is structured like a standard suit jacket and features ornate buttons. This should be worn with a standard collared shirt, waistcoat and necktie, and is often a shade of Irish green.
Modern Irish Wedding Ideas
In Ireland, kilts are worn as a symbol of pride and a celebration of Celtic heritage. They are a popular choice for wedding attire for grooms and their groomsmen, so consider convincing your groom and his groomsmen to don one!

The Claddagh Ring
The Claddagh ring is one of the most well known Irish wedding traditions and is typically passed down from mother to daughter or grandmother to granddaughter. The Claddagh ring represents love, loyalty and friendship. Love is symbolised by the heart, loyalty is symbolised by the crown and friendship is symbolised by the clasped hands.
An unmarried woman who is not engaged wears the Claddagh ring on her right hand with the heart facing outward toward the end of her finger. Once engaged, she wears it on her right hand with the heart facing her own heart. During the wedding ceremony, she moves it to her left hand with the heart facing her own heart to symbolize that she is married.
Modern Irish Wedding Ideas
The modern Claddagh ring comes in a variety of designs and materials, choose from white or yellow gold and silver. They are also a popular choice for an engagement ring, and, if you like a ring with a bit of bling, choose one that features a stone of your choice. Diamond Claddagh rings are particularly stunning. However, if your not a fan of the Claddagh ring, then there are lots of other great Irish ring designs to choose from, check out these Celtic inspired couples rings. 

Make Up Bell
The use of Church bells in Christian religions following the wedding ceremony is a symbolic act to drive away the evil spirits and remind the couple of their wedding vows. In Penal times in Ireland this was not possible, so the gift of a small bell acted as a substitute. These bells are also referred to as 'make-up' bells because during your married life, couples are encouraged to ring the bell if they argue as a reminder of their wedding vows.
Modern Irish Wedding Ideas
Although this was traditionally a Christian tradition, your wedding does not need to be religious or in a church to incorporate bells. For example, you could use bells to adorn your wedding stationery, invitations, bunting and decorations. You could also incorporate a ceremonial crystal or ceramic Make Up Bell into your wedding service by ringing it together following your vows, and then keep it as a memento. 

Or, you could also involve your guests by handing out little wedding bells and asking them to ring them at certain points during your wedding ceremony and/or when you exit the church instead of throwing confetti. The little silver bells featured in the image below come in batches of 24 and each bell features a message "This tiny Wedding bell salutes the Bride and Groom and the joy that fills the room. Ring it loud when they are near so all may hear the pledge of love they hold so dear."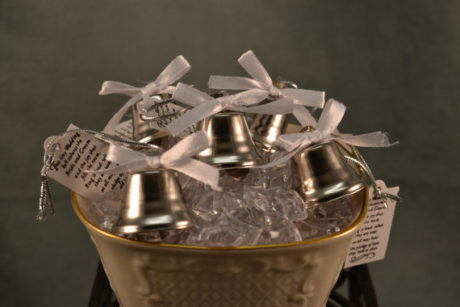 Handfasting / Tying the Knot
Handfasting is an ancient Celtic custom in which a couple came together at the start of their marriage relationship (like an engagement). Their hands, or more accurately their wrists, were literally tied together. Each partner held the hand of the other, right hand to right hand, left hand to left, their wrists crossed. The ribbon was wound around their wrists over the top of one and under and around the other, creating the infinity symbol. This practice gave way to the expression "tying the knot" which in modern day has come to mean getting married or engaged.
The man and woman who came together for the handfasting agreed to stay together for a specific period of time, usually a year and a day. At the end of the year the couple faced a choice. They could enter into a long term "permanent" marriage contract, or go their separate ways.
Modern Irish Wedding Ideas
Today, this tradition occurs during the marriage ceremony, after exchanging the rings. As the wedding solemniser binds your hands, they read out a ceremonial blessing – see an example below. The knotted ribbon or decorative rope then becomes a memento and reminder of your bond. 
Recommended reading: Handfasting and Wedding Rituals: Welcoming Hera's Blessing by Raven Kaldera
"Now you are bound one to the otherWith a tie not easy to break.Take the time of bindingBefore the final vows are madeTo learn what you need to know –To grow in wisdom and love.That your marriage will be strongThat your love will lastIn this life and beyond."
Lucky Irish Horseshoe
During the wedding ceremony, Irish brides used to carry a real iron horseshoe turned upwards (so it's 'U' shaped) for good luck. If the pointy ends are pointed down, the luck runs out. Following the wedding the couple would hang the horseshoe over the door in their home, also turned up, to preserve the luck of their home.
Iron was considered a lucky metal. According to folk traditions, iron was so powerful that spirits who wished to do you harm could not cross it. Therefore, Iron became a strong talisman against the forces of evil and destruction. No dark spirit could enter a house protected by iron without permission from its occupants. This belief was fostered to include young women on their wedding day. It was believed that the bride was targeted by these forces of evil and trickery to be cursed, or even waylaid along her journey to the wedding ceremony. To protect her, she might wear some iron jewellery or have a piece of iron sown into the dress itself. Later, after the invention of the iron horseshoe and its association with luck, the two were merged together.  
Modern Irish Wedding Ideas
Horse shoes are made of heavy metal, so these days, Irish brides carry a small porcelain horseshoe within their wedding bouquet. Other alternatives to consider is an engraved wooden horseshoe (featured below) or wearing a horseshoe necklace and earrings. For a more subtle touch, sew a little horse shoe into the hem of your gown.
Magic Hanky
It was usual for a bride to carry a hanky on her wedding day. Made of Irish linen, it was considered a 'magic hanky' which symbolised fertility. The bride would carry it in her bouquet or in her sleeve. Once the wedding was over, then the bride would use the handkerchief to make a christening bonnet for her first-born child. The hanky would then be passed on from generation to generation to be re-used in a similar manner.
Modern Irish Wedding Ideas
A hanky is still useful item to have on a wedding day where there is likely to be tears! However, another idea could be for the bride and groom to present each other with Irish linen handkerchieves as gifts.

The Oathing Stone
The Oathing Stone is an old Celtic tradition where the bride and groom place their hands upon a stone while saying their wedding vows. Called the oathing stone it was thought to be the best way to express your solemn promise in physical form. During the reading of the Bride and Groom's wedding vows, they hold an Oathing Stone in their hands. It is believed that holding the stone during the reading of the vows casts them into the stone. In the Celtic tradition an oath given near a stone or water was considered more binding.
Modern Irish Wedding Ideas
Incorporating the Oathing Stone into Your Ceremony
Taken from the ancient Celtic custom of setting an oath in stone, including an oathing stone in your wedding vows can be deeply moving. In a more modern version, you can get an Oathing Stone engraved with you and your partner's initials and date of your wedding (pictured below). After the wedding, the Oathing Stone can be used as a paper weight, or displayed in a shadow box as a precious keepsake.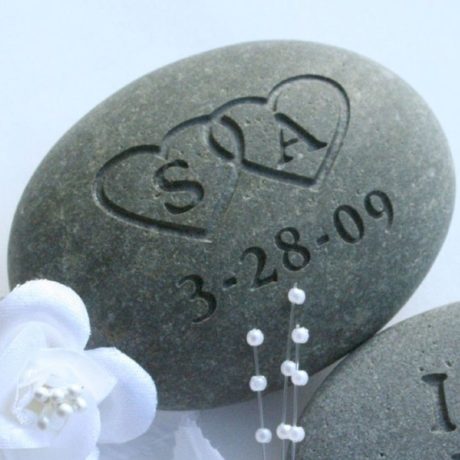 You can also get your guests involved. At the wedding, place a bowl filled with mini-Oathing Stones on the guest sign-in table where the guests enter and exit the seating area. When your guests arrive, have ushers or attendants give each guest a small stone while the guests are being seated. Alternatively, a mini-Oathing Stone can also be placed on each wedding chair before the guests arrive.

The guests simply hold the stone in their hand during the wedding ceremony. Get your wedding solemniser to provide a brief explanation about the Oathing Stone ceremony and/or provide your guest with a small information handout along with the stone.
"During the reading of _____ and_____'s wedding vows, they will be holding an Oathing Stone. It is believed that holding the stone during the reading of the vows, casts them into the stone.
It is believed that an oath given near a stone or water was considered more binding. This evolved into the bride and groom holding their hands together on a stone as they repeat their wedding vows.
When you arrived, you were given a stone to hold in your hand during the wedding ceremony. _____ and _____ chose these stones as symbols of your special relationship, love, good wishes and heartfelt blessings to them. The stones will serve as a lasting reminder of your presence at their wedding and of the special love that they shared on this their special day.
As you hold the blessing stone tightly in your hand, please reflect for a moment your wishes for this couple for love, happiness, prosperity, and unity.
Following the ceremony, _____ and _____ will invite you to place the stones with your personal blessing for them as a newly married couple into the special container on the gift table as you leave the ceremony area."
Oathing Stone Guest Book 
Provide guests with a palm-sized smooth stone and ask them to write a message on them in white or silver waterproof paint pen and then have them place them into a vintage basket.
If you also want to include the tradition of water, you could also add a decorative steel basket filled with water and invite guests to toss the stones into the water. Don't forget to provide instructions, either in a decorative frame or chalkboard:
"Couples in Ireland were often married next to a lake, river or holy well as these were thought to be sacred places.
Wedding guests are asked to sign their name and well wishes on a stone using the markers provided. (Be sure to let the writing on the stone dry for about 10 seconds.) When finished, cast the stone into the water as a symbol of this ancient tradition and a blessing for our marriage."
After the wedding, dry the rocks and keep them in a glass vase or basket as a sentimental decoration.
Tree of Life
Trees were an important part of Celtic culture, as they believed that people came from trees. The Tree of Life represents how the forces of nature come together to create harmony and balance and it symbolises wisdom, strength and a long life. It also represented rebirth – trees shed their leaves in the autumn, hibernate in the winter, the leaves grow back in the spring and the tree is full of life in the summer.
Modern Irish Wedding Ideas
Consider having a Tree of Life wedding ceremony. During the ceremony, the framed metal Tree of Life art piece is placed on an easel. It comes with a personally inscribed padlock which does not come with a key so it can never be unlocked, symbolising your eternal love. You and your partner attach the padlock to the centre of the tree. Your parents can also be involved by attaching their padlocks to the roots of the trees. If your children are at the ceremony, they can participate by attaching their padlock to the branches of the tree, or if children come later, you can place their padlock in the branches when they are born. This beautiful momento of your love can be mounted on the wall of your home.
Suggested Tree of Life Ceremony
Your parents are the foundation of your beginning until now they lock into the root of the trees strength and support.
(Parents)
They lock a love lock for the commitment and joy they have shared with you and the blessing you have been to their lives.
Today you join your separate lives together. The love lock you hold is a symbol of your commitment to one another. The message written upon your love lock is the promise of love, acceptance and unity. The "Lovelocks" Tree of life represents all that you are and all that you'll ever be as an individual and a part of your union together. As __(brides name)__ and __(grooms name)__ lock your love lock to this "Lovelocks" Tree of life, remember the reason you have come here today. Your love lock locks one time only there is no key, which symbolizes your commitment to each other for eternity.
Your love is locked forever. As your life unfolds in its many directions, the branches will bear its celebrations of life to come.
Today you connect two hearts together…  Your love will be forever.

Incorporate the Tree of Life into your wedding with this unique guest book idea. This wooden art piece is personalised with you and your partners name and wedding date. Each of the wooden 'leaves' of the tree are little hearts that the guests can write their names and best wishes onto. It can then be displayed in your home as a momento. These stunning pieces can be made in your choice of colours.
Irish Toasts, Blessings and Vows
It's an Irish tradition to toast the bride and groom as the wedding party gathers at the reception. Everyone would have their glasses full of mead and the newly wedded couple would recite an Irish toast:
"Friends and relatives, so fond and dear, 'tis our greatest pleasure to have you here. When many years this day has passed, fondest memories will always last. So we drink a cup of Irish mead and ask God's blessing in your hour of need."
The guests respond:
"On this special day, our wish to you, the goodness of the old, the best of the new. God bless you both who drink this mead, may it always fill your every need."

Modern Irish Wedding Ideas
Find inspiration for your own wedding from these Irish Wedding Toasts, Blessings and Vows.
IRISH MUSIC
Irish Bagpipes
Uilleann pipes are the national bagpipe of Ireland. The bag of the uilleann pipes is inflated by means of a small set of bellows strapped around the waist and the right arm. Popular tunes are the "Highland Fling" and the "Stack of Barley," as well as jigs, reels, and hornpipes. Not only do they sound good, they look good too. Most pipers wear Celtic kilts — plaid skirts that their ancestors wore in medieval times.
Modern Irish Wedding Ideas
Bagpipes can help you create a very unique atmosphere on your Wedding day. Make a bold statement by having bagpipes play as you arrive and exit the ceremony, during the cocktail hour or wedding reception.
Celtic Harp
The Celtic harp is a triangular harp traditional to Ireland. It is known as a cláirseach in Irish and was a wire-strung instrument requiring great skill and long practice to play. This medieval instrument is an important part of Irish history and it appears on the coins and coat of arms of the Republic of Ireland.
Modern Irish Wedding Ideas
The harp creates a dramatic and romantic atmosphere. Hire a harpist to play as the bride walks down the aisle. It's also the perfect background music during the cocktail hour and is a great option for entertainment at your reception. You could also hire an accompanying singer.
Irish Dancing
The show Riverdance is primarily responsible for making Irish dance widely popular in the last two decades. However, traditional Irish dances existed for centuries earlier and is a strong aspect of Ireland's culture. There are many forms of Irish Dance, the distinctive footwork is a novelty for outsiders and is great entertainment.
Ceili dancing traces its roots back several centuries to the start of the 1500s. It is a folk dance for several couples. Each couple dances together as well as with the group, often swapping partners. In ceili dancing, extended limbs and pointed toes are heavily featured.
In Set Dancing the quadrille, a popular court dance, was adapted into set dancing for rural areas. It typically requires four couples arranged in a square pattern. Two couples at a time then cross through the square to exchange positions. Unlike ceili, the dancers mostly use the entire flat portion of their feet, save for a few low kicks and flourishes.
Stepdance is an Irish dance for individuals or groups. In stepdance, the dancers keep rigid upper bodies. This specifically contrasts with their feet and legs that move through a succession of very fast hops, high kicks and complex footwork.
Modern Irish Wedding Ideas
Some Irish dances are named for locations in Ireland such as the Kerry Set and the Seige of Ennis, while some waltz tunes include names such as "Galway Shawl", or "Home to Mayo". Choose a song or dance to reflect your family's heritage or ancestral home and share the special significance of your dance with your guests.
Consider signing up for pre-wedding lessons, either for just you and your partner, or, for the whole bridal party. Or you could just leave it to the professionals and hire a group of Irish dancers for entertainment at the reception.

An Irish Feast
The traditional Irish menu — potato soup, Irish soda bread, corned beef, and cabbage — is perhaps not something you'd typically think about having as a wedding feast, but when cooked right and served up at a big wedding fete, it's delicious comfort food.
Modern Irish Wedding Ideas
During your cocktail hour, think about adding a corned beef carving station. Stock the bar with plenty of Guinness, Bailey's Irish Cream, and Jameson, and display an appropriate Irish proverb like "An Irishman is never drunk as long as he can hold onto one blade of grass and not fall off the face of the earth."
Irish Wedding Cake
The Irish wedding cake is traditionally a hearty fruitcake filled with almonds, raisins, cherries, and spice and laced with brandy or bourbon.
Modern Irish Wedding Ideas
Your wedding fruitcake can be made with a mix of fruit and nuts to your liking. Soak it in honey and then Irish whiskey, and frost with a sweet white glaze. Top the cake with decorative shamrocks or four-leaf clovers for good luck. If you're not a fan of fruit cake, then just designate one tier of your wedding cake to fruit cake or consider other popular Irish inspired cake flavours like Guinness with Bailey's and whiskey frosting.
The Month of Honey – the Honeymoon
"Mi na meala" means the month of honey in Irish and refers to the month following the wedding when the newlyweds celebrated by drinking mead, a brew made of fermented honey. Mead was gifted to the bride and groom, along with special goblets so they could share the brew one full moon after their wedding. This is where the term 'honeymoon' came from. It was believed that this delicate yet potent drink was the best way to ensure a good beginning for a new marriage, and it was also believed to endow powers of virility and fertility. Babies born nine months after the wedding were of course attributed to the mead.
Modern Irish Wedding Ideas
Either make your own honey mead or buy a bottle of honey mead as a gift for the bride and groom to present each other along with some Irish crystal goblets to enjoy it at their one month wedding anniversary. 
Plan a honeymoon and enjoy a relaxing holiday following you wedding. After all, most couples are exhausted from the hectic planning of the wedding and are usually in desperate need of a break.  

RelocatingtoIreland.com is a participant in the Etsy, Amazon EU and Amazon Services LLC Associates and Program, an affiliate advertising program designed to provide a means for sites to earn advertising fees by advertising and linking to etsy.com, Amazon.co.uk and amazon.com. Regardless, I only recommend products or services that I personally believe will add value to my readers.