When moving to Ireland, be prepared for the housing to be different from what you may previously be used to. This guide provides you an overview of what to expect as well as a detailed explanation on how to use the Irish energy and heating systems.
What to expect from a property in Ireland: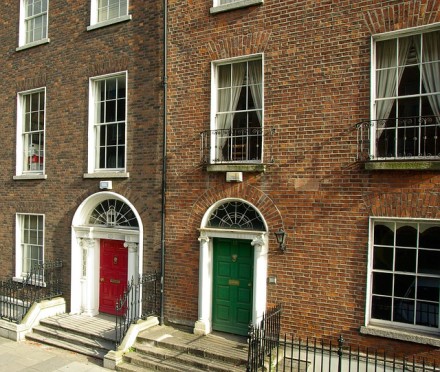 Flats versus Apartments
If you are looking for cheap accommodation, then a flat may be the best option. Flats are converted from older houses and are typically self contained, but some may share facilities such as the laundry, or even living areas. Often the layout can be awkward and cramped and the kitchen usually consists of a tiny bench. In some flats you may pay a fixed amount for the utilities (e.g. electricity, waste) each month, but in others you may have to arrange and pay for them yourself. Parking is not usually included, but there may be street parking options.
Purpose built apartments are usually a bit more expensive, but roomier with a better lay out. Billing for utilities would typically be separate for each apartment, but they may have a shared waste service.
Houses
City houses are typically three to four bedroom and semi-detached (two houses attached by a central wall). In the city areas, houses are usually terraced or rowhouse (house joined to another on either side of it). Free standing or detached houses are more common in towns and villages.
Security
Consider the security of the property. If you are living in a city area, then you need to understand that there is a reasonably high risk of being broken into. Ground floor or basement apartments are often cheaper, but they usually experience more break-ins and as a result you are usually charged more for insurance.
Insurance
The landlord must insure the property. However, this only covers the damage to the structure, i.e. the bricks and mortar. It is the tenant's responsibility to get contents insurance to protect their personal belongings.
Furnishings
It is common for rental properties to come furnished. The quality and amount of furnishing varies, but typically properties come with the basics (couch, bed, table and chairs, whiteware, basic kitchenware), but don't usually include electronics such as a TV. You will need to supply your own bedding and towels.
Kitchen
Unless you find a modern property or have a big rental budget, most kitchens can be quite small in Ireland.
Full sized fridge/freezers: Most city rentals only come with a mini bar/ under the counter style fridge (especially in flats). If this does not suit your needs then remember to check if the property has a full size fridge/freezer before viewing so you don't waste your time.
Dishwashers: Most modern and renovated properties tend to come with one. However, many older builds have tiny kitchens that won't accommodate one.
Storage: Pantry storage is not very common in Ireland. So when considering your rental, make sure that it has enough kitchen storage for both your kitchenware and food stores.
Laundry
Washing machine and dryer: It's quite common for these to be located in the kitchen and for the machine to be a combination washer and dryer. However, don't assume and be sure to check this out.

Storage
Bedroom: Does it have a built in wardrobe or does it come furnished with a wardrobe and set of drawers? If not, this may be something that you have to purchase.
General Storage: Is there enough room to store your belongings such as suitcases and other junk? Most places offer general storage in the cupboard where the hot water tank is stored, however, this space can vary from tiny to spacious. These are usually located by the front door, which makes them a great place to store jackets and shoes.
Property Orientation
South facing is the best for all day sun, but these can be hard to find and more expensive.
West facing is a good alternate option. It will give your property afternoon sun which can be very warming. However, if the property doesn't have many windows then this may not matter.
Consider downloading a compass app for your phone to help you determine the properties direction.
Parking
Be aware that some properties won't come with parking, especially in city areas. Off street parking may be available in modern apartments, however, not all of them include parking as part of your rent. You may be charged an additional monthly fee to secure a car park. Other properties may be in areas where you need to purchase a local council parking permit.
Waste
If you are living in an apartment complex, waste removal is usually included in your rent. They would typically provide large waste skips for you to use. In flats, sometimes the landlord provides a shared bin. However, if you are living in a house, it would usually be your responsibility to pay for rubbish collection as it is a pay for service in Ireland.
Always ask the leasing agent about the rubbish collection arrangements, as you may need to add this cost to your budget.
Find out more about the waste services available in Ireland.
Energy
In Ireland, there are no electrical outlets in the bathrooms. Sockets are not allowed in bathrooms or shower rooms unless they are fitted at least three metres from the bath or shower, but occasionally you may find a shaver-supply unit installed.
Some properties may have access to gas, but electricity is typically the main source of energy.
Some flats charge for utilities in a set monthly fee either added to or included in the rent. Other flats may be set up so that the individual tenant is responsible for the utilities. Some flats may even use a prepay electricity service.
Find out more about the energy services available in Ireland.
Heating
It gets cold in the winter, so make sure you look for a property with good insulation and double glazing to help keep you warm and cut down on heating bills. Older properties can be very cold if they have not been renovated with improved insulation. Some double glazed windows in modern buildings may also come with air vents. These are great for allowing circulation of air in cooler months. They are also very handy to use in warmer months as they are usually secure and can be left open while you are out. Properties would not normally come with air conditioning because it does not get hot enough in the summer to warrant any. Usually a fan will suffice.
Some properties, especially older ones, may have working fireplaces. In Ireland, a popular and cheap form of fuel is bog peat. The peat is compressed into bricks and you can buy them from the supermarkets and local stores. It can be very hard to get a fire started using these peat bricks, so try cutting them into slivers and use some dry wood/kindling and fire starters to help get it lit.
Some modern homes may have solar panels installed and also underfloor heating. Underfloor heating is absolute bliss, especially in the bathroom.
In Ireland, there are a number of different ways to heat your home and water. This can be very confusing if you have not had experience with these systems before. Below is an outline of the main types of heating. If you are unsure how to use your system, get your landlord to explain it to you.
Night Store Heaters
A common form of efficient heating is night storage heaters (aka night store or heat bank). They turn on during the night to take advantage of the cheaper night time electricity rates. The night store heaters work by storing thermal energy, which is released during the day via thermal radiation to keep your house toasty warm. These heaters usually have an output and input function for you to control how much heat is stored and how fast you want it released during the day. However, in newer models, they may not have these controls as this function may be automatic.
If it's not cold enough to use the night store function, these heaters usually have the option to also use them as a normal heater for instant heat.
In winter-time, the "off peak" electricity in winter is from 11pm to 8am. In summer-time the night-rate hours are midnight until 9am. You should not need to make changes to the timer, as they usually are set up automatically for both summer and winter times.
To get the night store heaters to work, they will have two electrical switches. One will be for using the heater during the day as a normal heater, the other will be for using the night store function. If the switches have indicator lights, then the switch for the night store heater will not turn on until the night time rate kicks in. Be aware that many modern apartments in Ireland do not use night store heaters in the bedrooms. These are usually just normal heaters, sometimes with a timer function.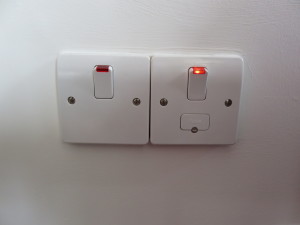 Below is an information video explaining how to get the best out of your storage heater.
Boilers
Boilers are used to both heat the home and the water. You can run a gas, oil, LPG or wood chip/pellet boiler, depending on what fuel source is accessible to you.
Water Heating Systems
Immersion Heaters
Immersion heaters are a common form of water heating in Irish households. An immersion heater is an electric heater that sits inside the hot water cylinder. It has a heating coil inside of it, and, similar to a kettle, you turn it on to heat up the water prior to using it. Then, once you've finished with it, you need to remember to turn it off otherwise it just keeps heating the water which uses a lot of electricity.
More modern immersion systems have additional features such as:
Set time function – enable you to turn it on for a set time e.g. 30min, one hour, two hours, after which it turns itself off.
Programmable timer – allows you to set it to turn on at a set time, for a set amount of time. Time-of-use tariff users can use this function to set their timer to turn on during off-peak cheaper hours.
Thermostatic control which switches off the immersion once it reaches a certain temperature.
Well insulated to keep the water hot for many hours.
Unfortunately many older properties have just the basic immersion system. That means not only do you need to remember to turn it on before your shower or bath (plan ahead, because it will need time to heat up), but then after you're done, you need to remember to turn it off or face a large electricity bill. This is one of the most common forms of household arguments – "Who the feck left the immersion on?!".
Tips
The Irish call the cupboard that stores the immersion heater, the 'hot press'. 'Press' is a term they use to describe cupboards, and 'hot' – because the hot water is in there.
You need to ensure that your immersion heater is reaching temperatures above 50°C to kill bacteria.
Night Storage Water Heater
These systems turn on during the night to take advantage of the cheaper night time electricity rates. The "off peak" electricity in winter is from 11pm to 8am. In summer-time the night-rate hours are midnight until 9am. Depending on your system, you should not need to make changes to the timer, as they are set up automatically. However, these dials are usually openly accessible, so you may want to check that no one has unwittingly changed it. Having it set to the wrong time could cause it to turn on during the high-peak, expensive time of the day, costing you money.
There is usually one dial with two markers, one labelled 'Summer Time' and the other labelled 'Winter Time'. The time on the dial should be set at the actual time of day for the season that you are in. The water tank itself must also be surrounded by a thick layer of insulation to keep the water warm as long as possible.
These type of water heaters usually also have a 'Boost' setting, which is an immersion system alongside it. This enables you to have access to hot water when the water in the main tank has begun cooling down in the evening. This boost setting is typically a timer function. They are usually quite efficient, and, although my boost timer can run for two hours, I find I only need to set it to heat for about 20 minutes in order to get a hot shower.
The downsides to this kind of system is if your family typically uses the bulk of their hot water in the evening, as they are really set up to be most useful in the morning. Consequently, you may end up having to use the boost system in the evening which will increase your energy costs.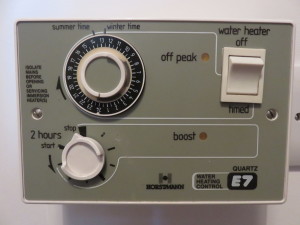 Tips
To save money, turn your water heating off while you are away on holiday. But don't forget to set a reminder in your phone to turn it back on when you arrive home! However, don't panic if you forget, you can use the boost option if you need hot water before it has had a chance to heat up overnight.
Electric Showers
Some homes may have an electric shower installed. Basically it looks like a large white box attached to the shower wall with dials. These are great if you rely on immersion heating because you don't have to worry about preheating the water in order to have a hot shower.
Inside the electric shower box is a small tank that has a powerful heating element, much like a kettle, which instantly heats the water. To operate the electric shower, you will need to turn on the mains switch first – usually via a pull cord which will be beside a pilot light that will tell you whether it is on or off. Then on the electric shower box there will be an 'on' switch which will start the water coming out of the shower head. Turn the temperature dial to adjust the water heat which uses a scale running from blue (cold) to red (hot). In wintertime when the water temperature drops, the electric shower needs to work much harder so you will find yourself having to turn the heat up and may also notice a drop in water pressure. On some models there is also a dial to adjust the water pressure.
For an electric shower to work effectively, you need a cold water supply with reasonably high water pressure because the shower heating unit will reduce the pressure of the water as it flows through. So some showers may also have a power shower fitted. It takes in and heats cold water just like an ordinary electric shower, but it also uses an electric pump to increase the water pressure so it leaves the nozzle with greater force and higher speed. However, the down side to these particular units is that they can be very noisy.
RelocatingtoIreland.com is a participant in the Find My Past, Clickbank, Amazon EU and Amazon Services LLC Associates and Program, an affiliate advertising program designed to provide a means for sites to earn advertising fees by advertising and linking to findmypast.ie, clickbank,com, Amazon.co.uk and amazon.com. Regardless, I only recommend products or services that I personally believe will add value to my readers.