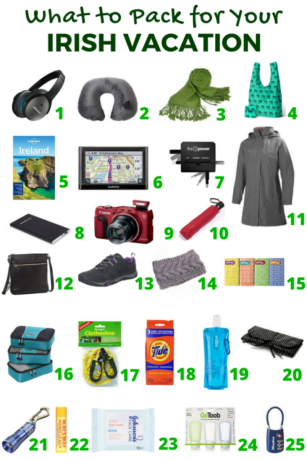 Now that you've finally booked that trip to Ireland you've been dreaming about for so long, you need to start planning what you're going to take with you. I've created a list of essentials that may not feature on your usual vacation packing list. These are the items that I regularly use when I travel around Ireland, so I thought I would share them with you.
If you need to take a long flight to get to Ireland, then noise cancelling headphones, or at the very least some Amazon, will make your trip much more comfortable. If you find it difficult to get the ear plugs to stay in your ears, you may prefer using the Amazon. I never realised just how loud the plane engines and passengers were, and its effect on me until my husband lent me his noise cancelling headphones. Firstly, they make it so much easier to hear the movies. With the usual crappy headset that you're given on the plane, I usually have to crank the sound all the way up to be able to hear what the characters are saying over the drone of the engines (and I have perfect hearing!). But with the noise cancelling headphones I can listen to the movie at a normal volume. It also significantly improves the movie experience because I can hear the conversations and the sound effects much more clearly.
Secondly, even when you're not watching movies, these are perfect to wear throughout your flight with the noise cancelling function turned on to cancel out the surrounding sounds. When I take them off to go to the bathroom, I am always surprised at just how loud it is inside the plane and how much noise the headphones are blocking. I find that it helps me to feel much more relaxed on the plane and I'm even able to get some sleep (and I can't usually sleep on planes), and I don't feel as tired when I step off the plane.
Bose noise cancelling headphones (available for Apple devices or Samsung and Android) are considered the best and their user reviews support this, however, they are very expensive. If you're looking for something more affordable, then try the Sony noise cancelling headphones. They also get excellent reviews but are much cheaper. Both models feature active noise cancelling and the necessary airplane connections.
I never used to travel with a neck pillow because I hated the bulkiness of them and always thought that the inflatable ones looked uncomfortable. However, my Mother in law insisted that I borrow hers on one of my trips abroad. It was then I realised just how much comfort the right kind of neck pillow can provide, and I even managed to get some sleep on my flight. I was won over by how comfortable it was and ended up purchasing myself this inflatable neck pillow with soft outer cover. Being inflatable, you can inflate it as much or as little as you want, and the big valve on it makes this super easy (I can inflate it using only a few breaths). I particularly love the fluffy, soft cover, which not only makes it much more comfortable, but also more hygienic because I can easily remove it and throw it in the wash. Although it comes with its own carry case, I actually use the little side pocket to fold it up into itself.
I always travel with a pashmina because they are just so versatile. Consequently, I have heaps of them in a range of colours. I use them as a scarf, as a shoulder wrap to keep me warm when it's cool or when I'm sitting up in bed, and as a blanket, especially when I'm travelling on the plane, bus or train or waiting in the departure lounge. I also use mine in a rather odd way – I use it to cover my head when I'm trying to sleep when I'm on the plane. Yes, it looks a tad weird, but I prefer it over a sleep mask. I think because it's like I'm in my own little private room/space, and it doesn't matter how weird my sleeping facial expressions become or how much I drool, because no one can see me. When I first did this, my husband pretended not to know me, but 15 hours into our flight when he was getting really tired, he succumbed to my strange ways and ended up with the other end of the pashmina over his head. Needless to say, he's now a convert.
The Irish weather is so fickle, that I have found myself using mine throughout the year, regardless of the season. When choosing your pashmina, I recommend getting wool over acrylic. Although they are more expensive, they make up for it by being much warmer.
Ireland passed a plastic bag tax in 2002. So unless you want to pay for a bag, then remember to bring one with you. I love this Baggu reusable shopping bag because it's super lightweight, comes in a range of colours and cute prints, folds away into its own little compact bag, and can easily be thrown in the wash.

Guide books really come in handy when planning your trip, but they can be rather bulky, heavy and annoying to travel with. However, both Rick Steves Ireland and Lonely Planet Ireland come in kindle format, making them really easy travelling companions that you can view on your kindle, phone or tablet. Not sure which guide book to buy? Read this handy guide to discover which is the best Irish guide book for you. 
If your planning on renting a car, then depending on the length of your trip it may be cheaper to purchase your own GPS with Irish maps, or Irish Maps SD card for your existing GPS, rather than hiring one from the car rental company.
Alternatively, you could use your phone to navigate by using an Irish Road Map App or using Google's free Offline Maps. Google Offline Maps allows you to access free maps for navigating that can be used offline i.e. you don't need wifi, data, or roaming to be able to use them. Follow this detailed guide on how to use Googles Offline Maps.
Using your phone as a GPS will drain your battery quickly, so make sure you travel with a car phone charger so you don't get stranded. A portable external battery charger which can charge your phone and any other USB chargeable devices can also come in handy, but don't forget to purchase a travel adaptor with a USB charger so you can easily charge your external battery. For easy navigating I also recommend you purchase a car phone mount holder.
And finally, you could also purchase an Irish road map. At least it's reliable and won't run out of battery or malfunction like the electronic options!
In Ireland the standard voltage is 230V and the standard frequency is 50Hz. They use a three pronged plug like in the UK, but these are not the type of plugs that the rest of Europe use. So unless you're from the UK, you're going to need a good travel adaptor. Your better off purchasing a worldwide adaptor that can be used in Ireland as well other countries. At least this way you can potentially get some further use out of it on future vacations as it can be used in over 150 countries and also comes with two USB ports. If you're taking a number of electronics with you, then I would recommend purchasing a couple of these adaptors.
Unfortunately most electronics like smart phones have a really short battery life and can become flat before the end of the day. That's why this portable battery charger is an essential item when you're travelling. This handy little portable external battery charger can charge your phone, tablet, and any other USB chargeable device. If you're planning on using your phone to navigate, then your going to need one of these as this can really drain your battery. Also, if you're planning on driving around the Irish countryside, then for safety reasons you want to ensure that you have enough charge on your phone to make an emergency call.
A small, light camera that enables you to take high quality photos and videos of your spectacular Irish vacation is a must. This compact Canon camera features 20.3 MP, 40x zoom with image stabilizer, wide angle lens and full HD 1080p video. It even includes built in Wifi that allows you to use your smartphone or tablet to remotely control the camera. Don't forget to purchase a quality SD card that has the capacity for all your photos and videos as well as being fast enough capture full HD video.
Ok, let's admit it, Ireland is not known for its sunny weather, and the chance that you will be caught in the rain is quite high. A light, compact umbrella is essential for ease of travelling, but you also need it to be super sturdy as it gets rather windy too. This Kolumbo travel umbrella fits the bill.
While we're on the topic of rain, you will also need a good rain coat. Try and get one that you can easily pack up small for ease of travelling. I love the Helly Hansen range of raincoats because they are waterproof, windproof and breathable and can also be packed up small. These men's and women's rain jackets are perfect for summer, and can also be worn over warm layers in autumn and spring. However, if you're planning on visiting Ireland in the winter months, then I recommend that you purchase the insulated men's and women's version of these rain coats instead.
12. Cross Body Bag
Dublin city is packed with tourists and unfortunately that attracts pick pockets and muggers. I've witnessed a woman have her phone snatched from her in the Temple Bar area in the middle of the day, so it can and does happen. Reduce the risk of losing your valuables whilst enjoying your sightseeing by using a cross body bag that allows you to place it more securely in front of you. Keep your valuables in the main body of the bag and only use the outer pockets for expendables such as tissues and lip gloss. Whilst in crowds, hook your hand over the strap and the zip entry.
Another advantage of this style of bag is that you never get asked to check them in at museums and galleries. However, those with backpacks typically get made to check them in which can sometimes cost money, and when busy, you can find yourself having to both line up to check it in and also to check it out again. When buying one, look for one that's big enough to hold your wallet, phone, keys, tissues, and a small water bottle. As well as being functional, it can also be stylish! For example, I like this men's canvas crossbody shoulder messenger and women's leather crossbody bag.
13. Shoes
Due to the wet weather and the amount of sightseeing that you will likely be doing, I would suggest wearing some good quality goretex hiking shoes that are not only comfortable, but will also keep your feet warm and dry. Dress is generally casual in Ireland, so don't worry about feeling underdressed! I really like Merrell's black Proterra gore-tex hiking shoes because they don't look so much like 'hiking shoes' and look good for everyday wear. If you want to bring other shoes for dressing up but have limited luggage space, then I suggest that you wear your hiking shoes whilst travelling and squeeze a pretty pair of little slip on's into your luggage.
If you are planning on doing some walking in the beautiful Irish countryside, then the Merrell Proterra hiking shoes are perfect for easy to moderate trails. However, if you are going to do some serious hiking on moderate to difficult trails, then I would recommend you wear waterproof hiking boots like Merrell's Moab goretex hiking boots, as the tracks can be very boggy and wet in Ireland.
This warm knitted headband is stylish and perfect for keeping your ears toasty warm and hair out of your face as you're walking along those windy Cliffs of Moher.
Even when I'm not travelling, I never leave home without these pocket tissue packs. Stash these tissue packs in the pockets of your bags and coats. The Irish wind and changeable weather can give you a runny nose. They also save you in those moments when you get caught in the loo with no toilet paper!
I don't know about you, but if I don't use these Packing Cubes, my suitcase becomes a jumbled mess. When I'm trying to find a particular item (which is always at the bottom of the bag), I'm like a dog digging for a bone and my bag ends up in a mess. These packing cubes are a great way to keep your suitcase organised and tidy, and they really do make it so much easier to find exactly what you need and fast.
I also use a travel laundry bag to keep my dirty clothes separate from the clean ones. I like this bag because its not bulky. Also, its not transparent, so its not embarrassing to carry to the launderette if you need to do some washing whilst on holiday.
This portable, pegless clothes line will come in handy if you get caught out in the rain or if you need to do some washing during your trip. You can also adjust the length which makes it easier to set up. The fun part is figuring out where to attach it in your room!
These Tide liquid laundry sachets make it easy to do a load of washing during your holiday. The sachets meet airline carry on regulations for liquids and each one holds enough for a regular sized load of laundry. But if you're planning to just handwash in the sink, then I really like the Woolite Travel Laundry Kit because it comes with a sink stopper. The stopper comes in handy as I've found most sinks to lack plugs when I travel. Alternatively, GoToobs (see below) are an excellent way to transport your own preferred laundry liquid.
These BPA free fold-able and reusable drink bottles are great space savers. The water in Ireland is safe to drink, so don't waste your money on bottled water. These bottles are very travel friendly when empty as they can be rolled up and clipped on to your key ring or bag, or tucked into your pocket.
Although I do not recommend taking any expensive jewelry with you on your trip (as most travel insurers don't pay much for jewelry replacement), I do love to travel with my cheaper, fashion jewelry. This small jewelry travel bag has lots of small zippered compartments to keep your jewelry organised and it even has a handy coat hook to hang it from.
If you are visiting in the winter months (when the light hours are short) or you are planning on staying in a hostel (for reading without disturbing others), then a little key chain flashlight can come in handy. I love this mini flashlight so much that I also have one attached to my keys for everyday use. Its tough aluminium body and long life LED makes it perfect for travelling.
Since moving to Ireland I suffer from terribly chapped lips due to the climate. Protect your lips from the harsh Irish weather by using Burt's Bees lip balm. It's my favourite lip balm because the beeswax provides long lasting coverage and it comes in the form of a chapstick. This multipack allows you to assign one to each family member or to stash them away in your bags and coat pockets.
Wipes are an essential travel item. I use them to freshen up during long trips and to clean hands before eating when there are no suitable facilities. These Johnson and Johnson moisturising, sensitive wipes are my absolute favourite. The cloth is lovely and thick and they do a great job of removing travel grime.
These GoToobs might be on the slightly pricier side, but they are definitely worth it as you will get years of use out of them. These GoToobs meet airline carry on regulations for liquids and are food-safe (FDA) and 100% BPA and PC-free. The no-drip valve stops them from getting messy and the squeezy tube design makes it easy to get the product out.
The makers of GoToob also make really clever little storage containers called GoTubbs which can be opened one-handed. GoTubbs come in small (1.4″ diameter) and medium (2.9″ diameter) sizes and are great for storing jewellery, pills, and thick ointment. However, for liquids use the GoToobs as these containers aren't very leak proof.
This padlock will not only keep your luggage secure, but is also handy if you're planning on staying in a hostel (you usually need to provide your own padlock for the lockers that store your personal belongings). What I like about this cable luggage padlock is that it's nice and light and the combination means you don't have to scramble around looking for the key or risk losing it. 

For those that enjoy journaling their travels, this Ireland Travel Journal can help you plan, live out, and record every stage of your journey to Ireland. The first part of the journal includes a pages for you to write about what inspired you to make the trip, about the who, where, what, when, how of the journey and to organise your travel research. Plus, you will find sections for drafting an itinerary and keeping a journey to-do checklist. The second part of the journal contains sections to describe getting there and arriving. The third part of the journal has a section for tracking the stuff you buy and for your daily adventures.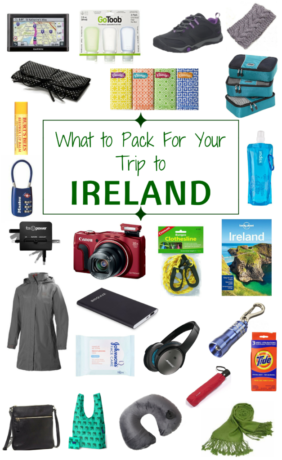 RelocatingtoIreland.com is a participant in the Etsy, Amazon EU and Amazon Services LLC Associates and Program, an affiliate advertising program designed to provide a means for sites to earn advertising fees by advertising and linking to etsy.com, Amazon.co.uk and amazon.com. Regardless, I only recommend products or services that I personally believe will add value to my readers.